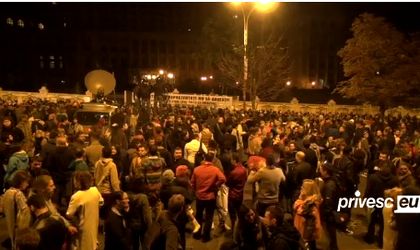 Thousands of people protested in Bucharest and in several cities across Romania on Thursday evening, days after a controversial vote in the Senate involving MP Gabriel Oprea, who is accused of manslaughter.
The senators turned down a request of anti-graft investigators from the DNA for the prosecution of Oprea. The file refers to the death of a policemen from his motorcade in an accident, in October 2015. At that time, Oprea was minister of interior and deputy PM.
Close to 4,000 people gathered at the exit of the Senate building in Bucharest asking for Oprea to be put on trial and for the imunity of MPs to be scrapped. Protests were also staged in other cities, such as Cluj-Napoca and Galati. People organized themselves through Facebook.
Oprea said hours before the people took to the streets that he wants the DNA request in his case to be put for voting once again and for senators to accept it. However, one official in the Senate said this is not legally possible and the only solution is for Oprea to resign from Parliament so he can be prosecuted.
The former minister is already on trial in a separate case for abuse in office in a file involving the former leadership of DIPI, the intelligence unit of the Ministry of Interior.
Oprea has constantly stated that he had the right to have a motorcade and that he was on the job, and not in his free time, when the accident involving the policeman took place. The former minister has already announced that he plans to end his political career.
Ovidiu Posirca