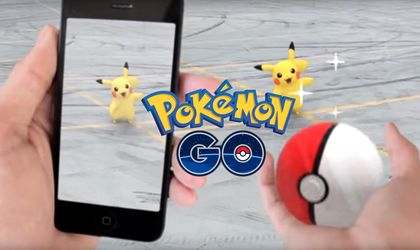 The interest of Romanians in Pokemon Go has dropped sharply one month after the game was launched in Romania. While in the first month over one million Romanians searched information on the game, only a few thousand did so one month later.
According to data monitoring company Quantum Data Science, around half a million Romanians installed the Pokemon Go app after the launch, both the iOS and Android versions. However, the number of those who installed the game decreased from 12,000/ day to 2000/ day of late.
The launch of Pokemon Go on 19 July 2016 attracted a lot of interest în Romania. According to data offered by Quantum Data Science, 1.008.614 people searched for information on the game în the first three weeks after the launch.
Interest in the Pokemon Go phenomenon was high in Romania even before the launch. According to the data management company, already 75,000 people had shown interest online by searching information about the game.
However, the interest of Romanians in Pokemon Go decreased sharply. In the first two weeks of August, only a few thousand people were searching information online, compared to 100,000 in the first week after the July launch.
Most of those interested in the game (56 percent) are aged 18 – 24, 23 percent are aged 25 – 34, 12 percent are aged 35 – 44, and the rest of 9 percent are aged over 44. The majority of users are male (86 percent).
The analysis of the profile of those interested in the Pokemon Go phenomenon shows that 27.5 of them are also interested in entertainment, are reading often about sport (18.2 percent), and about politics (9.4 percent). Other interests include: Science and technology (8.2 percent), Legal (7.4 percent), Economy (6.2 percent), Health (5 percent), Food (4.8 percent), Family (4.3 percent), Auto (3.4 percent), Travel (3.1 percent), Fashion (1.5 percent) and Home and Garden (1.1 percent).
Georgeta Gheorghe