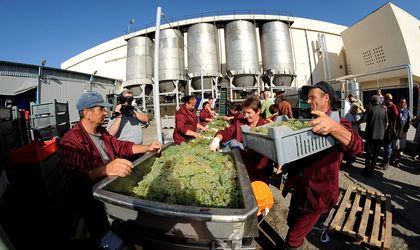 One of the shareholders of insolvent wine maker Murfatlar was detained by prosecutors, alongside nine other people including officials from the tax administration agency ANAF, the customs agency and the Ministry of Finance, in a tax evasion case worth EUR 132 million that involves four firms that produced and marketed alcoholic beverages.
Georghe Ivanescu, shareholder of Murfatlar, was detained alongside three other people that were associates in the companies investigated by anti-graft prosecutors. 40 other people are being prosecuted in the same case.
The major loss to the state budget was generated by the illegal permitting of three warehouses for the production of alcohol owned by these companies and also through the avoidance of VAT and excises payments.  Based on fake transactions, the amount of deductible tax was increased and the tax inspectors did not close down the warehouses although they were generating losses on a monthly basis.
Prosecutors will ask a judge to place some of the detained persons in preventive arrest.
On Monday, the police carried out close to 30 search operations on several locations across the country, including Bucharest, as part of the tax evasion investigation.
Ovidiu Posirca