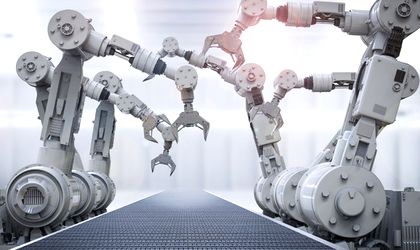 Romania is the most exposed country in the EU when it comes to the number of employees who risk being replaced by robots in the future – over 60 percent of jobs are threatened by technology.
Research by European think thank Bruegel, cited by Adevarul, shows that in 2013 Romania had the largest number of jobs that could be automated in the future. Romania is followed by countries like Croatia, Portugal, Bulgaria, Greece, Italy or Spain. At the opposite end of the spectrum are the UK and Switzerland.
Women will be hit more strongly by the automation trend, according to a study conducted by PwC and published by the World Economic Forum. Furthermore, workers with higher education can be hit harder and even earlier than others, but those with lower qualifications will be exposed to long-term risk.
The first automation wave, predicted to take place during the next two or three years, will mostly affect financial and professional services. In financial services, for example, many jobs are routine-based, like analysing data, so they are vulnerable to automation, according to John Hawksworth, chief economist at PwC.
Automation will continue to amplify in a second wave, until a third "autonomy" wave will occur in the mid-2030s, when more complex technologies such as driverless cars and robotics will have a more significant impact on industries that employ a large number of people, such as transport, medical assistance and education.
The stronger advancement of technology and artificial intelligence thus raise issues for regulators – how will they protect and ensure the future of jobs and what rules can guarantee that these innovations are collectively beneficial?
Political debates have been limited, but some European legislators have started to seek answers to these questions. The European Parliament adopted a resolution asking the European Commission to propose measures which would maximise the economic benefits of these technologies and, at the same time, guarantee a standard of security. Some proposals have included the idea of placing an extra tax on companies that replace humans with robots.