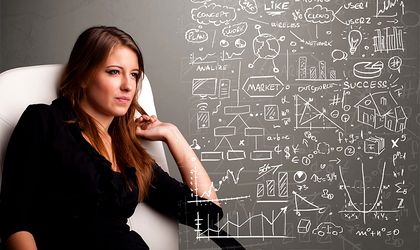 Romanian women occupy only 10 percent of places in administration councils of listed companies and 12 percent of positions occupied by women in non-executive roles, under the European average of 23 percent, according to a Deloitte study.
"Norway, the first country which introduced a diversity quota, has the highest women percentage in administration councils (42 percent). In UK there's no quota for gender diversity, but 20 percent of the places from boards and 3 percent of the board management positions are occupied by women. The number of women who are board presidents dropped by 14 percent from 2015 and until now to 9 percent," according to the fifth edition of the study Deloitte Women in the Boardroom.
At the same time, the number of women present in the administration boards doubled under the leadership of a woman (29 percent) compared with the boards led by a man (16 percent), at global level.
According to the source, the percentages are "almost identical" with the ones regarding the relation between a female CEO and the number of females from administration councils from the respective company (29 percent) compared with the company led by a male CEO (15 percent).
"At global level, 15 percent of the places from the administration councils are occupied by women, a modest growth of 3 percent compared with 2015, says Women in the Boardroom, the study that analyzes the efforts of over 60 countries to promote the gender diversity within administration councils," accordign to Deloitte.