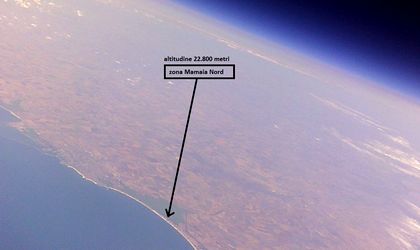 A team of researchers from the Romanian Space Agency (ROSA) together with specialists from the Romanian Association for Space Technology and Industry (ROMSPACE), the European Space Agency (ESA) and the National Centre for Air Defence Training "Brigadier General Ion Bungescu" have successfully operated a Romanian Unmanned Aerial Vehicle (UAV) at high altitudes, on July 18th, ROSA announced. 
The vehicle reached 23 km in altitude, becoming the first Romanian UAV to go beyond the 18-km altitude milestone in a controlled flight in the Romanian airspace.
The maximum altitude during the flight was 23 km and the plane covered 40 km horizontally, above the Black Sea. The mission duration was four hours, after which the vehicle landed at a predefined area.
Above the so-called Armstrong's line humans risk losing consciousness and suffering serious physical damage.
Armstrong's line represents the altitude from which atmospheric pressure is so low that water boils at normal body temperature.