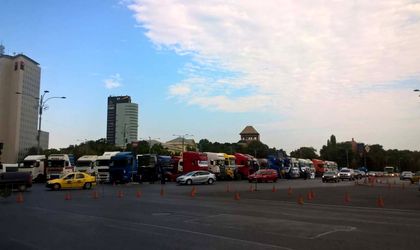 Some of the transport unions in Romania staged on Thursday protests across Romania, claiming that the current prices for mandatory car insurance RCA was driving them out of business.
In the Victoriei Square, where the government building was located, the protestors parked freight trucks, buses and taxis.
Some 100,000 transport vehicles were expected to take part in this movement, out of which 5,000 in Bucharest alone, although the government decided on Wednesday to let the Financial Supervision Authority cap the prices of RCA for companies and individuals in the next six months. One of the associations of transport firms decided to abandon their protest due to the government's intervention on the RCA market.
The ASF will have 30 days to announce the reference prices for RCA. Meanwhile, the insurers said that this move breaches the EU regulation and might trigger the bankruptcy of some firms that will not be able to pay for the claimed damages.
The transport firms want the price for RCA to be under RON 5,000 for a truck, while the insurance firms claim this amount is not sustainable. The government said the current market conditions are dysfunctional.
Ovidiu Posirca