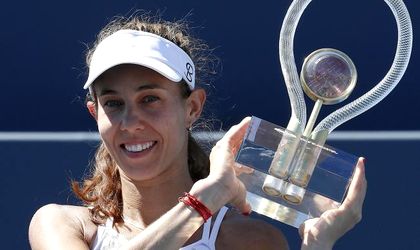 Romanian tennis player Mihaela Buzarnescu has won her first WTA title at the Mubadala Silicon Valley Classic after defeating Greece's Maria Sakkari in two sets.
The Romanian player cruised past first-time finalist Maria Sakkari, 6-1, 6-0 to win her maiden title. By winning the Premier-level event, Buzarnescu became the sixth player to win her first title so far this season. Moreover, the 30-year-old Romanian entered the WTA's top 20 for the first time in her career.
"I was able to take all the emotions away and keep focused, and try to take it as a normal match, not as a final," Buzarnescu said after her victory," the tennis player said after the match.
"Even after the first set, I thought she could come back, so it was really not easy. After leading 3-0, I thought I could really win the match," she added.
"I was trying to focus on my game and not focusing on how she would react," Buzarnescu added. "I saw that I was playing really good, making winners and getting every ball back."
Now, I think I believe in everything. I started to believe that I could play good when I qualified for the US Open last year," she said. "Everything's [been] better and better for me. I'll just try to focus for each tournament and each game as I did before.
"Maybe people will look differently at me now, but I don't want to change anything…just think of the good moments, and play."
Exactly one year ago, Buzarnescu was ranked 142 in the world.