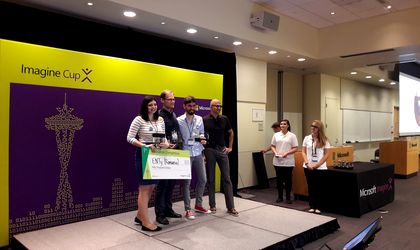 Three computer science students from Romania won a global competition organized by IT giant Microsoft in the innovation category.
The Romanians had developed ENTy, a high-tech wearable device that tracks the balance of the internal ear and checks the spine posture in real time.
The team said that the product has already been tested with doctors on 500 patients and could be used in the medical field.
The Romanians won the grand prize of USD 50,000 for innovation in this year's Microsoft Imagine Cup. The second place went to a team in Sri Lanka, while a team of tech students from the United States came third.
"The experience is amazing and can't be described only through words Imagine Cup has opened many avenues for our team and has validated once again the innovative idea of ENTy, but also the value of Romanian IT students," said Flavia Oprea, product developer of ENTy.
Aside from the Innovation category, the competition also selected winners in the Games and World Citizenship segments.  The three teams that won in their categories will vie for the title of Imagine Cup Champion. The final will take place on Friday evening in Seattle and the event will be livestreamed. The winning team will get a mentoring session with Satya Nadella, the CEO of the IT conglomerate.
How does ENTy work?
In its current, beta form, ENTy is the size of a door key, is worn on the back or head and based on its unique algorithm and the data from the sensors (accelerometer, magnetometer and gyroscope), can tell if you have a good balance / problems with your internal ear and reproduces your posture in real time, according to the project's description.
The team that developed this product comprises Iulian Matesica (hardware engineer architect), Cristian Alexandrescu (UX Designer) and Flavia Oprea (product developer).
All three are students at the Polytechnics University in Bucharest.
Ovidiu Posirca