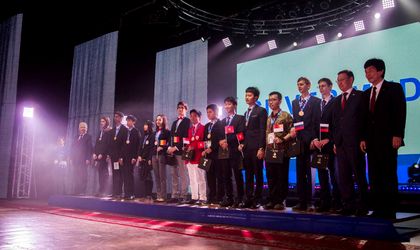 The Romanian students who attended the Asian Olympiad of Physics- APhO, which took place during May 1-9 in Russia, won a gold medal and a silver medal. 
Razvan Radu, student in twelfth grade, succeeded to win the gold medal. The silver medals were won by Anca Dragulescu, from twelfth grade and Petru Codrut, eleventh grade. Dragulescu also obtained a special prize for the best result of a female contestant in the Asian Physics Olympiad.
"The coordinator of the Physics lot, professor Adrian Dafinei, explained that at this competition there are participants from the best teams from the world and this invitation to a European team is an exceptional one," said Tudor Vlad, president of the foundation eMAG for Education.
Due to its outstanding results until now, Romania is the only country outside Asia which was invited to attend the Asian Olympiad of Physics for the third year in row. The competition get together 24 countries, each with eight participants.
The training of Romanian students team was supported through the program Hai la Olimpiada!.