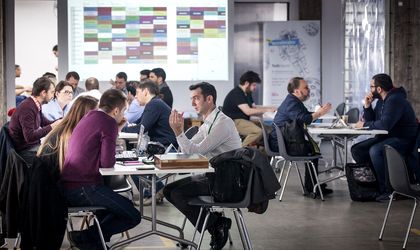 Romanian start-up TypingDNA, which provides an online security solution based on the way people type on their keyboards, is one of the four projects selected by Deutsche Telekom (DT) for the second phase of the hub:raum Krakow acceleration program, WARP.
TypingDNA has been selected together with another three star-ups from a group of 11 such companies from eight European countries which have been developing their projects for one week, within hub:raum's Krakow acceleration program.
"We welcome the performance of TypingDNA, which confirms the strong cradle of innovation and creativity in Romania, especially because their idea is fit for the context in which the solutions based on data security are vital for businesses, as well as for the end users. Their solution offers a new level of security to online services users for their PCS and smartphones, being the basis for a multitude of use-cases. Telekom is an active part to the challenges and dynamic of the start-ups  community in Romania, backs the innovation and supports companies of all sizes, as this mix offers the premises for a win-win partnership in terms of customers, monetization, respectively new lines of business," said Alina Cazacu, Telekom Romania E-Activities non-core business manager.
In 2015, Romanian start-up, DeviceHub.net, which provides cloud services for the Internet of Things communication, was awarded EUR 80,000 from hub:raum Krakow to develop their project, support from the hub:raum Krakow mentors, as well as market access to 150 million DT Group customers all over Europe. DeviceHub.net was the second Romanian start-up which receives financing from hub:raum, after OmnisPaste in 2014.
During the latest edition, these start-ups from Romania, Poland, Ukraine, Croatia, Montenegro, Portugal, Denmark and Greece attended workshops, mentoring sessions and panel discussions, conducted by Telekom experts and international mentors, focusing on best approaches on sales, cooperation with big corporations, presentation and pitching skills, start-up financing, business models or marketing.
On the last day, teams presented their ideas in front of investors, DT managers as well as mentors, with whom they worked for the whole week. The jury chose four start-ups, which will further develop their ideas for next couple of weeks.
One of the selected projects was Romanian Typing DNA – online security solution based on the way people type on their keyboards.
Otilia Haraga