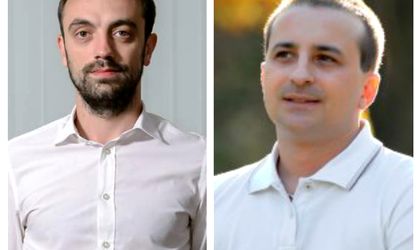 Retargeting.Biz, a Romanian-grown startup, has recently opened an office on the West Coast, in Los Angeles. The startup helps online stores communicate with customers via built-in, highly-customizable workflows. Launched in 2013, Retargeting.Biz generated for its clients 40 million customized messages and EUR 8.5 million in extra sales, while maintaining an impressive average conversion rate of over 10 percent.
Georgeta Gheorghe
Its two founders, Rares Banescu and Mugur Frunzetti, told Business Review about the advantages and risks associated with entering the extremely competitive US market and shared some insights into the trends they noticed on the markets their clients are active on.
While it may seem like a big leap to some, opening of an office in the US was part of the startup's long-term strategy from the very beginning. The company's strategy, Frunzetti told BR, "was to develop a very good product and test it on the local market, then go after the US market." The move was also supported by the fact that around 75 percent of the startup's clients are located in the US. The biggest advantage that comes with a US presence is that clients "take you seriously", Frunzetti explained, while the most significant risk involved in opening an office in the US is represented by the expenses, which are "huge, namely three to four times higher than they are in Romania for the same office and staff." In taking on the US market, the two entrepreneurs are very confident in their product: "we are 101 percent confident our software is better than that of any US competitor," Frunzetti said, "so we have to be there and show this to all e-commerce businesses in the US."
The strategy of Retargeting.Biz on a very competitive market, where clients everywhere can hire companies from around the world, is to deliver an original product and to differentiate themselves by "always innovating."
"We never copy our competitors and we create our own algorithms, triggers and communication platforms," Frunzetti explained. The company's approach also involves clear communication with customers, doubled by a forward-thinking mentality. "We show very clearly to customers the real results and extra generated revenues," Frunzetti said, while being "three steps in front of today, all the time," Banescu added.
Retargeting.Biz has a portfolio that currently includes around 200 domestic and 200 international clients based in Bulgaria, Poland, Latvia, Lithuania, Estonia, India, Vietnam, and the US. When is comes to the trends they noticed while working with international clients, the two entrepreneurs argue that US clients are ready to invest more of their resources in fine-tuning their campaigns, as long as they are guaranteed good results. According to Frunzetti, "US customers invest more time and money in fine-tuning their campaigns or they ask us to do it for them. They have no problem paying USD 1,000 a month for added services as long as they get back more as a result of our tuning." Moreover, Banescu added, "as for customer behaviour, the US clients are more willing to try new things and they are using the software more often."
When it comes to similarities, the two argue that all clients, regardless of the markets they are active on, are focused on boosting their conversion rate and maximizing the possibilities for obtaining revenues from their existing traffic. "Everybody wants to increase their conversion rate and get the best outcome from their actual traffic, the rest is small talk" Frunzetti concluded.
According to its founders, the company, launched in 2013, aims to grow its portfolio of clients to 1,000. Retargeting.Biz currently employs 25 staff and has offices in Bulgaria and Poland.