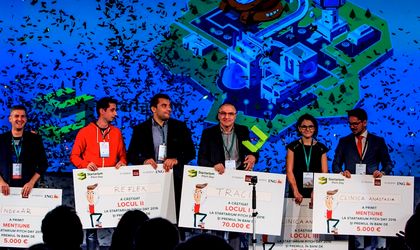 The competition for entrepreneurs Startarium Pitch Day announced the winners on November 23. Tracia, the first touristic trailer factory from Romania and South-Eastern Europe took home the big prize of EUR 70,000. The award was given to Gabriel Bugnar, the founder of the start-up by Michal Szczurek, CEO ING Romania and Vlad Craioveanu, CEO Impact Hub.
"It's the biggest chance that we've had until now. Startarium offers me the occasion of this project to continue and Romania to be on the map of recreational vehicles from Europe," said Bugnar.
On the second place was Re.Flex, which creates sensors helping the patients in the final stage of recovery, awarded with EUR 20,000. The start-up was founded by Camil Moldoveanu and Andrei Kluger.
The third award was given to the Pediatrics Clinic Anastasia from Piatra Neamt, in value of EUR 10,000. The clinic presented by Ilinca Nicolae was rewarded also with a special prize of EUR 5,000 from the jury.
Also the IndexAR got a special prize of EUR 5,000. It is a platform and application of augmented reality which gives the SMEs the possibility of bringing their products in front of the clients and it was founded by Razvan Boldis.
Over 700 persons were present at the event that aims to support the start-ups with potential from Romania. The event was also live and had 15,000 views.
"I would like to congratulate all the 10 finalist start-ups. Some participants were for the first time on the stage of a pitching event of this importance, however they were excellent and impressed the public and also the jury. Being at the first edition, Startarium Pitch Day is already known as an important event in the entrepreneurial ecosystem in Romania and this fact encourages us to develop more and more Startarium, the city of entrepreneurs, " said Craioveanu.
Georgiana Bendre