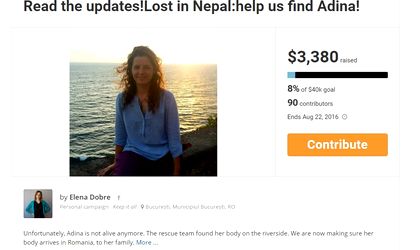 Adina Popescu, 26, who was working for Romanian start-up Marketizator, was reported dead in Nepal.
According to an update posted on the website of the firm on July 24, Popescu's body was found by a rescue team on the riverside.
"She got caught in a landslide and didn't survive," said the start-up in a statement.
Popescu had entered Nepal on July 11 and she was planning a trip in the mountains. She was supposed to get back home on July 18. She went missing starting July 16, after she had sent some photos to her family and friends.
Her friends had started a fundraising campaign online to finance a search and rescue mission. In addition, the founder of Marketizator, Valentin Radu, went to Nepal in order to take part in the search efforts. She was reported missing in a mountain area at around 1,500 m.
"My dears, that was it.
Sadly, we've had to change the purpose of this campaign.
If you want to get back the money of your donations, let us know.
If you want donate, you're welcome to do so, in order to bring her back.
Her family needs us, and that's the last thing we can do for her.
Fly in peace, Adina!
A whole country is sad that you're gone!" wrote Radu on his Facebook page.
Popescu's friends were able to raise close to USD 3,400 on FundRazr platform. This money will be used to bring her body back in Romania. A bank account was also opened for people from Romania willing to donate for her family.
The Romanian Embassy in Nepal said on Sunday it was ready to provide assistance in this case, if needed. The Ministry of Foreign Affairs (MAE) reacted after the media reported on Popescu's dissapearance.
She was working as CRO consultant for Marketizator, the conversion marketing technology start-up.
Popescu was a graduate of the Business and Tourism Faculty within the Bucharest University of Economic Studies (ASE). She was pursuing her PhD in management at ASE. The institution posted a message on Facebook following the tragic news.
Dan Popescu professor, PhD, who worked with Popescu on her doctoral thesis, said that she had a "inquiring mind" and was "altruistic".
Ovidiu Posirca