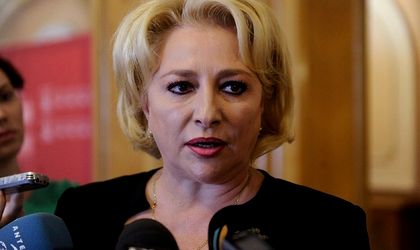 Romanian satire website Times New Roman (TNR) announced it is suing the country's Prime Minister Viorica Dancila for damaging Romania's image, G4media.ro reports. TNR is seeking RON 1 in damages. The move comes in retaliation for Dancila's lawsuit demanding EUR 100,000 in damages for a satire article published on the website that called her "dumb."
The announcement was made by the website's editor in chief Calin Petrar. "After the Pristina – Podgorica episode (editor's note: during an official visit to Montenegro, the Romanian PM mistook its capital Podgorica for Kosovo's capital Pristina), pressed by common sense and at the advice of my lawyer Radu Sora, I also decided to sue Viorica Dancila," Petrar said.
According to him, Romania's PM had been damaging the country's image for 10 years. By contrast, the article the website published was online for two days only. "This happens in the same case in which Viorica Dancila is demanding from me and my colleagues at Times New Roman EUR 100,000 because we called her "dumb" in an article. I want to make it clear that I did not want to get caught in such a conflict; it is simply a response to the absurd request made by Viorica Dancila. It is not only revolting, but outright Kafkaesque that Viorica Dancila should ask me for EUR 100,000 for an article that was online for two days, while she has been damaging my image as a Romanian since 21 January 2009, as a MEP, and starting 29 January 2018 as the Romanian PM," Calin Petrar wrote on timesnewroman.ro.
He is seeking RON 1 in damages.