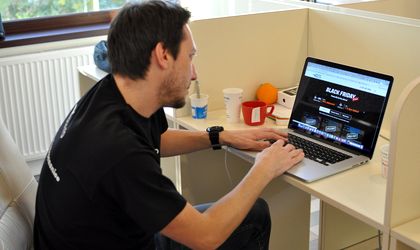 Some of the online retailers that took part in this year's Black Friday event, the day with the biggest discounts of the year which took place on November 18, said they recorded soaring sales and a growing average shopping cart per user.
For instance, eMag, the biggest online retailer controlled by Naspers, announced that it sold over 1.1 million products on Friday, out of which 700,000 products in the first eight hours since starting the special campaign.  This year, the retailer had some special offers, allowing clients to buy diamonds, gold or music festival tickets. eMag said it got orders for 113 diamonds and sold close to 13 kilograms of gold.
The retailer got 6.2 million visits on Friday, and the mobile accounted for 64.17 percent of the total visits.
Last year, eMag sold 602,000 products on Black Friday worth RON 202 million.
Meanwhile, the IT online retailer evoMAG said that its average sale grew by 70 percent in this Black Friday compared to last year's event.
"We are seeing that Romanians are starting to buy products with a bigger value, on the back of the increase of the standard of living and the purchasing power," said Mihai Patrascu, the general director of evoMAG, according to News.ro.
Elsewhere, online tourism agency Vola.ro announced that it registered record sales of EUR 1 million in 24 hours of campaign on Black Friday and that the biggest transactions with airplane tickets was of EUR 3,063 for a group of 27 persons.
PayU, the payments technology company, had announced that on Friday, between 00.00 – 17.00 it handled transactions worth RON 61.2 million, up 22 percent compared to the same period of last year. Out of this total figure, 34 percent were transactions with credit cards, with the facility of payment in installments.
Transactions in the fashion and IT&C segments gained 30 percent and 15.3 percent, respectively, compared to last year, according to PayU Romania. The other categories of online retail, such as home&deco, toys, books, flowers grew by 51.2 percent.
The number of transactions handled by PayU Romania rose by 9 percent to 86,657 and the average value of the shopping cart stood at RON 707.
Ovidiu Posirca