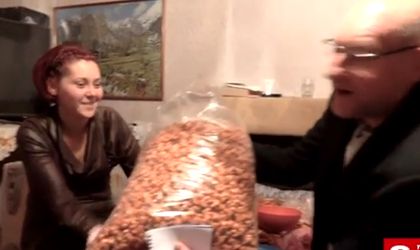 The Directorate for Investigating Organized Crime and Terrorism (DIICOT) in Romania said it was analyzing a report published by the British tabloid The Sun to "check aspects signaled in the press material."
The British journalists presented the story of a Romanian family that was assembling toys that would go in the Kinder Eggs of the confectionery giant Ferrero.
The investigation, which is signed by Nick Parker, chief foreign correspondent in Romania, presented Christian Jurj, whose wife, Tinea, children Patrick, 11, and Hannah, six, help put together the toys. The journalists claimed that the family was paid 22p-an-hour and the members were working up to 13 hours from home for a subcontractor of the international company.
Timea Jurj claimed that the report of The Sun was a set up and that the British journalists promised they would help her husband, Christian, get a job in the UK.
The local labor inspection in Satu Mare claims that none of the family members appearing in the investigation appear as employees of the firms that produce and distribute the toys, as it is mentioned in the report.
The child protection employees went to the home of the Jurj family to check if the kids were working instead of going to school.
"The situation presented in the article is not confirmed. On the contrary, the kids are going to school, there are documents that prove this, and under no circumstance are they working for 13 hours daily," said Mariana Dragos, the head of the child protection agency DGASPC in Satu Mare.
Romexa, the distributor of Kinder Eggs in Romania, said it subcontracted the assembly of the toys to a firm in Carei and that it was not aware of any illegal activities of third parties. It added that it didn't have any clues that the firms it was working was assembling toys in unauthorized spaces and that it was exploiting people, especially children.
Meanwhile, Fererro told Digi24 TV station that it was "dismayed and concerned" by the alleged practices of one of its suppliers.
"Ferrero has a strict code of conduct stipulated in contracts with suppliers. We confirm that we are working with Romexa and Preloegis. We will examine these accusations," said the company.
The DIICOT has opened an investigation earlier this year into a report by British TV station Sky News, which claimed that Romania hosted arms traffickers that were willing to sell weapons to anyone, including terrorists.
The men that were presented as arms traffickers by journalist Stuart Ramsay were later placed into preventive arrest in Romania. In the meantime, the Romanian prosecutors are trying to talk to the Sky News representatives that were involved in the creation of this report.
Ovidiu Posirca