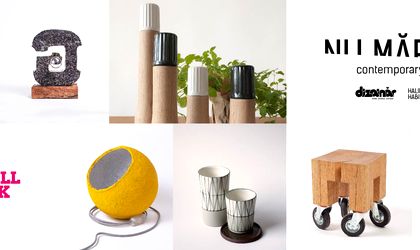 Eight Romanian designers from Dizainăr, the first local product designers' store, will be presented during Clerkenwell Design Week, which takes place in London, May 24-26, courtesy of Halima Habil and the Romanian Cultural Institute. The event is a vibrant architecture and design festival which is placed in the creative hub of Clerkenwell, the urban area where are most of the best-known architecture and design offices.
The Romanian designers will be represented by Dizainăr at Clerkenwell Design Week 2016: Atelier A4 – Adina Segal; Alexandru Ioniţă; Bulb27 – Andrei Ignia; Ciprian Manda; De Ceramică – Mădălina Teler; Maria Decu and Mihai Dumitrache; Ubikubi – Dragoș Motica.
Read also: Dizainar: Local products, local entrepreneurs, local profits
" Dizainăr's objective was since the beginning to put Romanian design on the world's map. Now, after three years in a row at the Milan Salone del Mobile, is a proper time to exhibit the Romanian design at the coolest festival of the moment: Clerkenwell Design Weeek," says Mihnea Ghilduș, designer and founder Dizainăr.
"Contemporary Reactions", a snapshot of contemporary Romanian product design
"Attuned to the trade's latest cries, the Romanian artists offer a vivid illustration of the contemporary reactions to tradition on our design scene and the often original response to the dominant poetics of forms and space," is presented the Romanian product design of the festival on their official website.
Last year, the festival had over 300 exhibitors, while the three days attracted over 35,000 visitors.
The Romanian product design can be seen at A19 stand, within Additions exhibition, opened from 10.00-21.00 at Garden of St James, St James Walk, London EC1R0EA. The entrance is free of charge, but you must register online here.
Oana Vasiliu