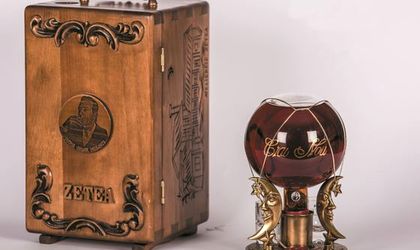 A distilled beverage producer in Satu Mare is selling a 17-year-old sour cherry palinca, a traditional Romanaian drink, for EUR 2,000 per litre, according to Mediafax.
The palinca is sold in a glass globe with gold thread, and delivered in a handmade wooden box. Producer Silviu Zetea said that most of the buyers of this product are in Romania.
Zetea added that the palinca is inspired by a ballad by Romanian composer Ciprian Porumbescu.
Last year, to celebrate the Romanian Centenary, the company released a special collection of four 40 ml glasses containing palinca made of plums, pears, apples and sour cherries. "Three of the glasses represent the three Romanian Principalities, and the fourth represents Europe," he said.