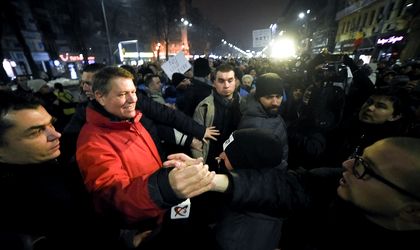 Romanian president Klaus Iohannis has initiated the procedures for a referendum regarding the country's anti-corruption efforts and the integrity of the public office representatives.
On Tuesday morning, the president submitted a letter to the heads of the two chambers of the Parliament, who have to be consulted on this move. According to a statement of the Presidential Administration, PM Sorin Grindeanu was also informed on this decision.
The theme of the referendum is "The continuation of the fight against corruption and the insurance of the integrity of public office".
In short, Romanians will be asked if they want the current anti-corruption campaign to continue or not. Insofar, high-profile politicians have been prosecuted by the anti-graft department DNA, including former PM Victor Ponta, the brother of former president Traian Basescu, fugitive businessman Sebastian Ghita, and the head of the left-wing PSD party Liviu Dragnea.
"Taking into account the legal provisions mentioned above, I consult the Parliament regarding the organization of a national referendum  regarding the above-mentioned issue," said the president in the letter sent to Liviu Dragnea, the head of the Chamber of Deputies, and Calin Popescu Tariceanu, the president of the Senate.
Iohannis said he would call for a referendum one day after tens of thousands of people took to the streets in Romania, asking for the government to scrap a draft pardon bill and proposed amendments to the Penal code.
The head of state briefly joined the protests in Bucharest and claimed that a "gang" of politicians with legal issues was trying to change the laws so they could block corruption investigations.
Meanwhile, the head of the Social Democratic Party (PSD), Liviu Dragnea, accused Iohannis of initiating a coup during the night of the protests. Later, he announced that the Parliament plans to organize two referendums this spring.
In order for a referendum to be valid, at least 30 percent of Romanians with voting rights have to cast their ballot.
Ovidiu Posirca