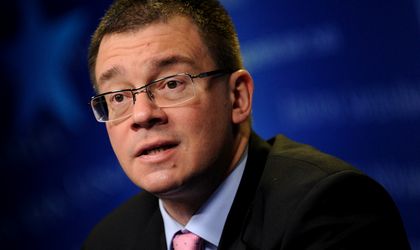 The resignation of former Foreign Intelligence Service (SIE) Mihai Razvan Ungureanu on Monday surprised many. In the afternoon, several politicians commented on the news, with reactions ranging from surprise to suggestions on the reasons for the shock resignation.
"I do not know the reasons that determined the resignation. I was taken by surprise by the news," National Liberal Party co-chair Alina Gorghiu said after a party meeting.
"If his resignation is solving a problem with the functioning of certain institutions, then chapeau," Gorghiu saluted the decision, adding that "everyone is putting the good functioning between institutions above personal interest" after journalists suggested that the move could be motivated by a poor relationship between President Iohannis and the former SIE head.
According to chair of the Parliamentary committee for the control of the activity of the Foreign Intelligence Service (SRI) Mihaita Calimente, Ungureanu informed him he was resigning due to health reasons. He also mentioned that he found out from the press about the resignation of the SIE head.
"I did not know about this resignation, I found out from the press. During the first telephone conversations I had with televisions I said there could have been a certain state of conflict between Cotroceni Palace and the SIE director, this also after the rumors that circulated the whole summer," Calimente told Agerpres.
Later, Calimente said, "I received a phone call from Razvan Ungureanu, who told me I should take his word for it that he resigned for health reasons. He told me it was a serious problem, and, consequently, it was the only reason why he submitted his resignation. He told me that (…) his health is more important than any other activity," Calimente told journalists at the Palace of Parliament.
In a posting on his social media account, Social Democratic Party (PSD) president Liviu Dragnea said he had found out from the press about Ungureanu's resignation, which he hopes "is not part of a behind-the-scenes political war."
"I took note of the resignation of the SIE director from the press. A resignation is a resignation and I will not comment on it! I hope this act is not part of a behind-the-scenes political war," Dragnea said. The public opinion in Romania must know the real reasons that led to the resignation of Mr. Mihai-Razvan Ungureanu. If the reasons are strictly personal, then it is alright, but, if there were other reasons that have to do with the good functioning of this service, then the SIE control committee should be informed, because it is about an important state institution," Dragnea wrote on Facebook.
General Silviu Predoiu sill serve as interim SIE head. The president is expected to announce his nomination within a short time. Next, the Parliament will have its say, after talks within the committee headed by Mihaita Calimente , by voting in plenum on the president's proposal.
Georgeta Gheorghe