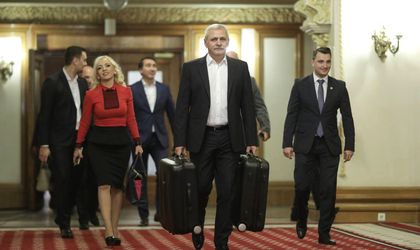 Romanian top politician Liviu Dragnea was imprisoned at Rahova Penitenciary after being convicted to three and a half years in prison earlier today. 
Liviu Dragnea arrived at the Rahova Penitentiary where he will be imprisoned. He will be in quarantine for 21 days, during which time he will be given medical examinations, a psychological examination, and will determine the activities that he will follow during the period of detention.
"Today, police officers at DGPMB have enforced a mandate to execute the prison sentence issued on behalf of a man. The one in question was taken from his residence in Bucharest and imprisoned in the Rahova Penitentiary," City Police official said.
He was awaited at the Rahova Penitentiary by several people who blasphemed him. They shouted "Thief!", "At jail".
Romanian top politician imprisoned at Rahova Penitenciary
Dragnea was convicted for inciting abuse in office in the DGASPC Teleorman case, where two employees were falsely hired at the Child Protection Services Agency in the county, while actually working for the local PSD organisation while collecting their salaries from the Agency.
The conviction comes as a roller coaster for Liviu Dragnea, whose Social Democratic party (PSD) recorded on Sunday its lowest score history in the European Parliament elections. According to the preliminary results available at this time, PSD ranks second, behind the Liberal party (PNL), with a percentage of 22.59 percent.
Liviu Dragnea, a controversial Romanian politician
Liviu Dragnea (born October 28, 1962, Gratia, Romania) is a Romanian politician, president of the Social Democratic Party (since October 2015) and chairman of the Chamber of Deputies (December 2016). Liviu Dragnea is considered to be the most influential politician in Romania.
As an engineer, he entered politics after the 1989 Revolution: initially he was a member of the Democratic Party (1994-2001), and then joined the Social Democratic Party. Among the public positions he has held are the president of the Teleorman County Council (2000-2012), the Minister of Internal Affairs in the Boc Government (2009) and Deputy Prime Minister and Minister of Regional Development and Public Administration in the governments headed by Victor Ponta (2012-2015).