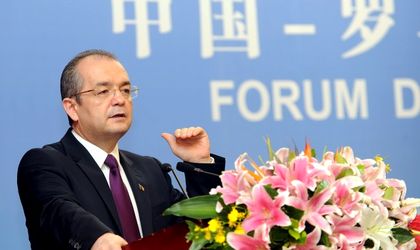 Romanian officials were pragmatic, but secured only promises for 5 major investment projects from their Chinese counterparts.   
A Romanian delegation comprising of business representatives and Government officials departed on a 7 day trip to Beijing, for developing partnerships in major investment projects. In order to ease the collaboration between the two countries, a Romanian-Chinese business forum was organized, were approximately 30 Romanian and over 150 Chinese companies looked for investment opportunities. In his opening remarks, Prime Minister Boc said that "Romania has at least two sectors where we have a competitive advantage versus other countries in the EU. These sectors that can be very attractive for investments are agriculture, tourism and energy".
Prime Minister Boc met with his Chinese counterpart Wen Jibao and reiterated that the traditional friendship between the two countries should take a more prosperous path in the future. Boc also thanked Wen Jibao for the invitation at the 26th edition of Summer Universiade held in Shenzhen.
Chinese president Hu Jintao also pushed for a pragmatic collaboration between the two states, mainly in economic projects, as the political ties are good.
The Romanian delegation promoted 5 of the 20 major projects that should be built in a public-private partnership. According to Prime Minister Boc, each project is worth over EUR 1 billion. China has mandated its relevant ministers to work on the implementation projects in the energy, transport and agriculture sector.
Major projects that should be built in a public-private partnership
China Huadian Corporation has an interest for investments in the thermoelectric domain, precisely on projects like Doicesti Power Plant and Rovinari Energy Complex.
China Coal Technology & Engineering Group Corporation expressed their intention to modernize viable mines in Valea Jiului, once a thriving mining region of Romania.
China State Grid International Development is looking at possible investment in Romania's energy transport business.
China Guangdong Nuclear Power Group had a third round of talks with the Romanian authorities regarding the extension program of Cernavoda Nuclear Power Plant. The Chinese want to join Arcelor Mittal, Enel and Nuclearelectrica in building the 3rd and 4th reactors at Cernavoda.
The Romanian delegation presented to Chinese officials other major projects that should be built in public-private partnership: the building of Tarnita-Lapustesti heating plant, The Danube-Bucharest canal, the Siret-Baragan Canal and the Bucharest bypass road.  
The Chinese were also informed that a 15 percent stake at Transelectrica is up for sale later this year.
Other talks concerned a direct air line between Bucharest and Beijing, naming a Romanian Ambassador for the embassy in China. Romania also welcomes Chinese financial presence in Romania. In fact, Emil Boc invited China Development Bank to open a branch in Romania.
The Romanian delegation in China comprised of: Prime Minister Emil Boc, minister of Transport and Infrastructure, Anca Boagiu, minister of Economy, Ion Ariton, minister of Foreign Affairs, Teodor Baconschi and minister of Culture, Kelemen Hunor. A number of 30 business representatives from Romania joined the delegation

Ovidiu Posirca