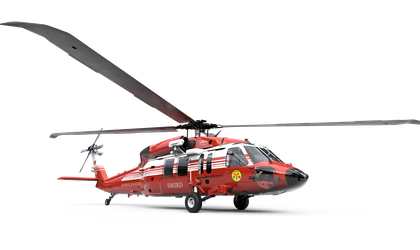 PZL Mielec, a Lockheed Martin company, has received an order for six new-generation S-70M Black Hawk utility helicopters from Romania's Ministry of Internal Affairs. This first order follows the recent signing of a four-year framework agreement that will see up to 12 Polish-built S-70M Black Hawks supplied to Romania over the next four years.
The first six aircraft, three configured to support maritime and three to support land operations, will be delivered in co-operation with Romaero and DELTAMED during 2023. Romania becomes the 11th country and 18th customer for Black Hawk helicopters built by PZL Mielec, Poland's largest exporter of defence and aerospace equipment.
The cabin of both the land and maritime Black Hawks will accommodate a medical suite equipped by Cluj-Napoca-based Deltamed, an experienced integrator of emergency vehicles outfitted for patient care and rescue operations.
"Today's order from Romania's Ministry of Internal Affairs underlines the dual-use capabilities of the S-70 Black Hawk. The helicopter brings military robustness to civilian missions and is equally capable of supporting national police, coastguard, firefighting, border patrol or search and rescue operations as it is supporting defence and security operations or medical evacuations," says Janusz Zakrecki, president and general director PZL Mielec.
With a proud heritage in Europe's aerospace industry that stretches back more than 80 years, today PZL Mielec is parent company Lockheed Martin's largest manufacturing facility outside the U.S.