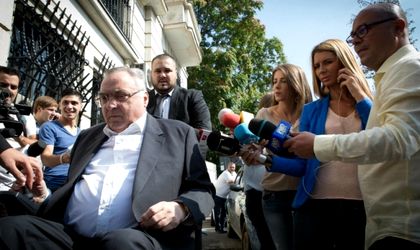 Dan Adamescu, the Romanian millionaire active in the media and real estate sectors, got a jail sentence of four years and four months. The decision of judges at Roamania's High Court is final.
Prosecutors said that Adamescu gave bribes worth EUR 20,000 to judges that were handling insolvency cases involving his companies.
Four judges got prison sentences in this case. For instance, Mircea Moldovan, one of the judges that received bribes from Adamescu, will spend 12 years and two months behind bars. Initially, he was sentenced to 22 years in prison.
Another businessman that was tried in this case, Mircea Moldovan, got a suspended prison sentence of one year and four months. He is a former MP.
Anti-corruption investigators said that Adamescu bribed the judges so that some of his companies could file for insolvency. In other cases, he gave money to make sure that the insolvency administrators that he wanted would be approved by judges.
Adamescu has been struggling in the past years to maintain his businesses afloat. For instance, his insurance company Astra is bankrupt. His newspaper Romania Libera is struggling to make money.
His net worth amounts to EUR 118.7 million, according to Forbes Romania. In 2015, Forbes estimated that his fortune amounted to around EUR 550 million.
Adamescu is also dealing with a messy divorce that was widely reported by tabloids.
His family controls several valuable real estate assets in Romania such as Unirea Shopping City in Bucharest and Rex Hotel in Mamaia. The millionaire also has a stake in the operator of the Intercontinental Hotel in the Romanian capital.
In a separate case, the businessman is prosecuted for the bankruptcy of Astra, the former insurance company. Investigators have seized RON 857 million from his fortune.
Adamescu, 67, made his fortune in Romania in the early '90s, when the local economy was just discovering capitalism after decades of communism.
Ovidiu Posirca