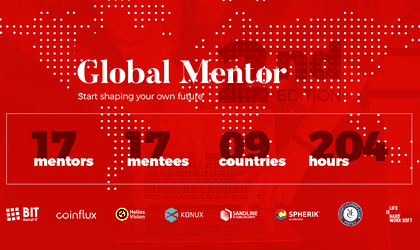 Romanian IT, the global community of Romanians in tech, is launching the second edition of the international mentorship programme "Global Mentor", which will bring together 17 mentors and 17 mentees from 10 countries on 3 continents, and will involve 204 mentorship hours globally.
The program aims to connect students, professionals and Romanian entrepreneurs in IT with mentors in the global Romanian IT communities in order to accelerate their personal and professional development. The purpose is to ensure a continuous knowledge transfer between community members throughout the world and to consolidate a culture based on the exchange of experience, education and collaboration.
The project unites 17 mentors – Romanian entrepreneurs and professionals from 9 countries – who will guide mentees during the three-month programme that includes 12 individual mentorship sessions. Among the members are Manuel Costescu, Abney Advisor Director, Vlad Lata, CTO & Co-founder of KONUX, Denis Tudor, CEO & Lead Engineer EPFL Hyperloop, Mihai Ciorean, Senior Software Engineer at Uber Freight and Vlad Nistor, Co-founder of Coinflux.
Participation is free for mentees, and applications are open between April 12 and 24, and if accepted they will go to an interview with their chosen mentor in order to validate the mentorship.