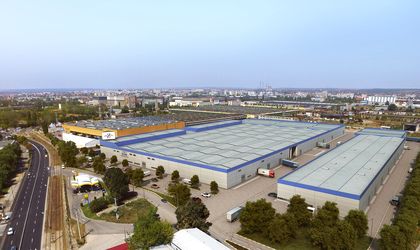 The local industrial and logistics stock has exceeded the 3 million sqm threshold, reaching 3.12 million sqm at the end of H1 2018, according to Romania's Industrial & Logistics Market H1 2018 report by Cushman & Wakefield Echinox.
Almost 90 percent of the current stock is concentrated in Bucharest and in five other cities – Timisoara, Cluj-Napoca, Ploiesti, Brasov and Pitesti.
The industrial and logistics market in Romania had a fairly cautious start, considering that only over 100,000 sqm were delivered. For the second half of the year, approximately 450,000 sqm are expected to be completed, more than half of the projects planned or under construction being located in Bucharest (54 percent). Outside the capital, Timisoara, Cluj-Napoca and Ploiesti will attract the largest volume of deliveries.
"We observe a temperate market evolution, both in terms of constructions and transactions. We will probably see some particular large retailers' consolidations, along with the transfer of tenants to their own developments, all these operations being carefully analyzed, planned ahead and correlated with the main consumption indicators and the future growth estimations of those businesses. Demand has a balanced and healthy pace, with the industrial sector having an attractive potential for the next 2-3 years, " said Rodica Tarcavu, partner, Industrial Agency, Cushman & Wakefield Echinox.
The industrial & logistics demand in H1 2018 in Romania was of almost 120,000 sqm and it was largely represented by new transactions. Bucharest remained the most wanted destination, considering that about 53% percent of the rental volume was recorded here.
In H1, demand came mainly from companies belonging to the logistics, e-commerce and distribution sectors – accounting for approximately 73 percent of the total.
The vacancy rate for industrial properties remained at a low level, approximately 4 percent.
Headline rents for Class A units vary between EUR 3.75/sqm/month and EUR 4.25/sqm/month. For units larger than 5,000 sqm, rental rates are lower at circa Eur 3.5/sqm/month – EUR 3.6/sqm/month.
The service charge, which covers property tax, insurance policy, security, technical maintenance and the landscaping of exterior spaces, varies between EUR 0.6/sqm/month and EUR 0.9/sqm/month.