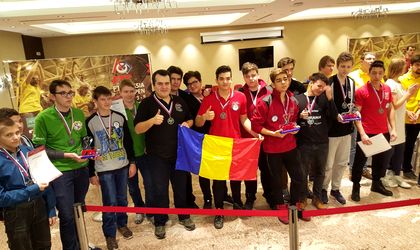 The Romanian highschool students from AutoVortex team got the first place at the international robotics competition First Tech Challenge Russia Open 2017 , which took place between February 3 and 5 at Sochi. They were coordinated by the professor Ionut Panea.
AutoVortex Romania got a record rank of 295 points, the last one being registered by a team from USA (290 points) a week before. Through this victory, the team reached the Global Championship of Robotics from St Louis, USA, that will take place in April 2017.
French lender BRD-Groupe Societe Generale provided support for the Romanian team to attend the international contests.
"We already started to prepare for the robotics contests at the end of the last year, so that 2017 already reached us at the robotics contest from Korea, where we could test robots for the first time," said Ionut Panea.
AutoVortex Romania was set up in 2011 and is formed of over 25 robots makers who are divided in sub-teams within international contests: AutoVortex, AutoVortex Beluga, AutoVortex Flat Earth and AutoVortex Transilvania.
BRD First Tech Challenge Romania is one of the biggest robotics contest from the country organized under the concept First Tech Challenge, formed of 800 students, 53 teams from high schools in 33 cities.
Georgiana Bendre