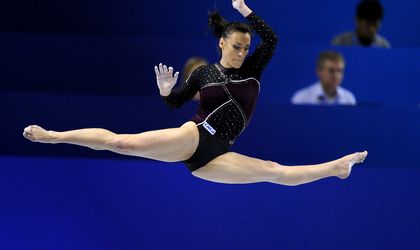 For the first time since 1976, Romania has not won any gold medal in gymnastics. At the 2012 Summer Olympic Games in London, Romanian athletes won 3 medals, including one gold.
Romanian athletes Catalina Ponor, silver medalist in London, and Marian Dragulescu, who created the Dragulescu vault, have failed to win a medal in the finals they had qualified for.
Catalina Ponor, who was Romania's sole representative in women's gymnastics, ranked 7th in the women's beam final, with a score of 14.000 points. The 28-year-old gymnast had won three gold medals at the 2004 Athens Olympic games.
"It was tough. I tried to fight, to represent Romania as best as I could. Unfortunately, there were many emotions, a lot of negative messages that affected me," Ponor told Romanian broadcaster TVR after the beam final.
"I knew there was a big pressure on me, I did not think about the medal, just at doing my exercise. Unfortunately, I did not manage a [good] performance. The important thins is that I am healthy. I did not consider retirement at all," Ponor, who will turn 29 this month, added. "I want to go to the European Championships in Cluj, I still have some fighting to do! I gave the green light to those negative messages and negative messages directed at me from those who did not want me to be here.
"I am an Olympic champion, and not once, but three times. I have absolutely nothing to lose. I played my chance until the end. But it was not meant to be. I gave the Dutch [gymnast] Wevers, the winner, because she told me I was her model in 2004," Ponor added. Sanne Wevers claimed Olympic gold with 15.466 points.
Marian Dragulescu, who came out of retirement to compete in Rio, ranked fourth in the men's vault final, with 15.449 points. North Korea's Ri Se-gwang won gold with 15.691 points.
Romania's total gold tally in gymnastics amounts to 24. The last gold medal was brought by Sandra Izbasa at the 2012 London Olympic Summer games, in the vault final. Nadia Comaneci is the most heralded Romanian gymnast. She has nine Olympic medals to her name, including five gold.
Romanian athlete Andrei Muntean will compete in the men's parallel bars final on Tuesday.
Georgeta Gheorghe