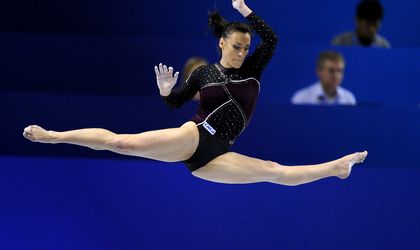 Romanian gymnast Catalina Ponor announced today she was retiring from competitions after she missed the finals both on the balance beam and on the floor at the World Gymnastics Championship in Montreal. The 30 year-old gymnast won three gold medals at the 2004 Olympics in Athens and has to her name numerous World Championship and European Championship medals.

Ponor won the 26th place on beam qualifications, on 14th on the floor, while Ioana Crisan was on the 27th place and the compounded individuals.
"It wasn't a day as I wished, but I am satisfied about my achievements until now: 23 European, World and Olympics medals, 26 years dedicated to gymnastics and two unforgettable moments- the Olympics from Athens, where I achieved more than I dreamed of and the European Championships from Cluj, where I lived so unique beautiful moments in front of the public, as well as less pleasant moments a day before the beam finals. I am proud of all my achievements and of how much I sacrificed for this sport that I loved and I still love, with ups and downs. Due to my health and due to my age, I decided to stop. I will end the year with small contests already planned and starting December I will begin a new life, close to sports but differently, still supporting gymnastics. I thank you all who applauded me, who lived the joy together with me," wrote Ponor on her Facebook page after the Montreal qualifications.
Larisa Iordache get injured on her tendon before the competition and abandoned it, thus Romania remaining with only one representative in the competition,  Marian Drăgulescu. Who will compete at the jumps final.