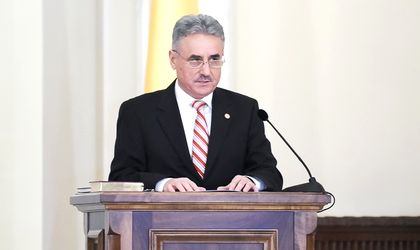 The Romanian Government will send the European Commission a convincing schedule that will outline the way Romania will meet the 3 percent deficit of the GDP, Viorel Stefan, Minister of Finance Viorel Stefan told broadcaster Antena 3 on Sunday.
"I believe we will make a convincing schedule that we will send to the European Commission by April 25, to explain that we will meet the 3 percent deficit," Stefan said. "Their calculations show [it will be] 3.6 -3.7 percent. We believe we can make it 3 percent and, as the semester one execution shows, I am convinced we are going to meet the 3 percent. Now we must find convincing arguments for the European Commission and we are doing or best to send this to Brussels by April 25, so that the spring forecast the Commission is making can take it into account and maybe they will […] admit we are right once again."
Reza Baqir, head of the IMF mission to Romania, announced, on February 17, at a press conference, that the international financial body estimates that Romania will have a 3.7 percent budget deficit for 207 and a 3.9 percent deficit for 2018.
"For this year, we estimate that, if no other measures are taken apart from those already included in the budget, the forecasted deficit will stand at 3.7 percent […] I would like to state that our estimates for the upcoming year will change as soon as talks will be held for 2018," he said. According yo him, the successive cuts of taxes, salary increases that exceed the productivity increases and the drop in quality public investment start to threaten past years' achievements and are curtailing the potential request of Romanian economy.