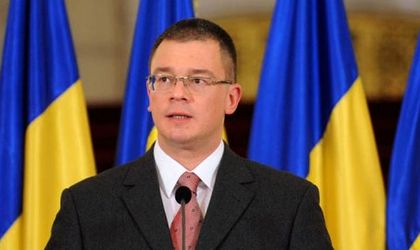 The head of the Foreign Intelligence Service (SIE) resigned on Monday, President Iohannis' spokeswoman Madalina Dobrovolschi announced. Silviu Predoiu will act as interim SIE head.
On 24 June 2015 President Iohannis appointed Ungureanu for a new term, which the Parliament validated on 30 June 2015. Ungureanu's first term as SIE head started in December 2007 and ended in February 2012.
Silviu Predoiu has been working with the SIE since 1990 and in 2005 he was appointed deputy of the SIE head. Previously, Predoiu worked as a geologist.
Ungureanu's resignation surprised many. In June, he had praised the good relations between the Foreign Intelligence Service and other state institutions. "The relation between the state institutions is always very good, because as long as it works you will only see but very good results. I have nothing to complain about," Ungureanu said, when asked about the state of the collaboration between SIE and the National Anti-corruption Directorate.
In April, DNA Chief Prosecutor Codruta Kovesi said the SIE had not sent DNA any notifications, despite the fact that there are many defendants in corruption cases that open bank accounts abroad or purchase property in other states. At the time, Kovesi described the situation as "unacceptable."
In reply, the SIE stated the body was not in charge of monitoring the activity of Romanian citizens abroad, and the information obtained by the SIE cannot be used as evidence in court, as it is obtained via specific means, including intelligence activities carried out on the territories of foreign states. The situation was mediated by President Klaus Iohannis, who invited both Kovesi and Ungureanu to a meeting. "This situation is likely due to poor communication. In order to clarify these aspects we invited both, we had a talk where I invited Laura Codruta Kovesi and SIE head Mihai Razvan Ungureanu. I believe the problem was solved," Iohannis said.
Ungureanu's name also appeared in the new corruption file of former Romanian PM Victor Ponta, who is investigated by the DNA in connection with the visit to Romania by former British PM Tony Blair. Blair visited Romania in March 2012 to participate in "the future of Europe in the new global order," on March 26. Blair visited the headquarters of the Social Democratic Party (PSD) and met with Victor Ponta and met the then-PM Mihai Razvan Ungureanu at the Government.
Georgeta Gheorghe