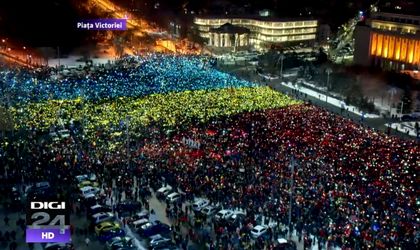 At 9 PM sharp, on Sunday evening, more than 50,000 people that had were attending a protest in Victoriei Square, in front on the Government building, opened the flashlights of their phones and placed on top of their devices a sheet of paper that was coloured in blue, yellow or red, depending on their location in the square.
The people recreated the Romanian flag in the 13th consecutive day of protests against the center-left government led by Sorin Grindeanu, calling for unity in the fight against corruption. Several thousands people continued to demonstrate in other large Romanian cities, as the political tension in the country remains elevated.
Meanwhile, around 1,000 people were calling for the resignation of president Klaus Iohannis, in a separate protest that was also taking place in Bucharest, near the Cotroceni Palace.
The people that had gathered near the government building were also calling for the resignation of the head of the Chamber of Deputies, Liviu Dragnea, and of the president of the Senate, Calin Popescu-Tariceanu, who was put on trial in a corruption case on Friday. Dragnea got a suspended jail sentence last year and is currently tried in a separate corruption case involving his former wife.
Dragnea is the head of the Social Democratic Party, while Tariceanu is co-chair of the Alliance of Liberals and Democrats. Both parties form the ruling coalition that controls the government. In addition, the PSD-ALDE alliance holds a majority in the Parliament.
The protests have continued throughout the weekend, although the government repealed last week the controversial amendments to the Criminal Code, which had initially triggered massive street protests. However, the interim minister of justice, Ana Birchall, said that she would restart discussions on this topic with representatives of the legal community.
The Parliament is expected to vote soon a government ordinance decision that cancels the previous ordinance, which included the amendments to the Criminal Code that partially decriminalized the abuse in office.
Since the start of the political crisis, two ministers from Grindeanu's government have resigned: Florin Jianu – who was the minister of Entrepreneurship and Florin Iordache, the minister of justice.
Ovidiu Posirca
Photo source: Digi24