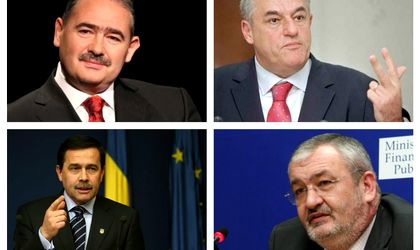 The ex-ministers Mihai Tanasescu (Finance minister), Dan Ioan Popescu (Industry minister), Sebastian Vladescu (Finance minister) and Gheorghe Pogea (Finance minister) are prosecuted for setting up a criminal group, for abuse of office and complicity in embezzlement, according to a release of the Directorate for Investigation of Organized Crime and Terrorism (DIICOT)
The DIICOT prosecutors requested the extension and prosecution of the four suspects in Rompetrol II file through a decision from June 7.
"In the same ruling it was requested the continuation of prosecution of the suspects Mihai Tanasescu, Dan Ioan Popescu, Sebastian Vladescu and Gheorghe Pogea for the crimes stated above. Moreover, in the ruling from  June 7, it was asked the instauration of assurance measures over the movable immovable goods of the suspects,"says DIICOT.
 Popescu, Vladescu and Pogea were present on Wednesday at tge DIICOT office where they where announced that they are prosecuted, after Mihai Tanasescu was present at the Court on June 17.
Popescu said when exiting from DIICOT building that the prosecutors told him that he is investigated in Rompetrol II file and that it has "around 3,000 volumes" which would mean "over one million pages."
The president Klaus Iohannis approved at the end of May the requests of prosecution for the four ex-ministers in Rompetrol II file.
DIICOT seized the Rompetrol refinery and 14 people were prosecuted, among which Sorin Marin, a former business partner of Dinu Patriciu and Rompetrol shareholder; Alexander Nicolcioiu, production director of KazMunayGas International (former Rompetrol Group), Adrian Constantin Volintiru, former president of AVAS, US citizens George Philip Stephenson and Richard Colin Hart.
Georgiana Bendre