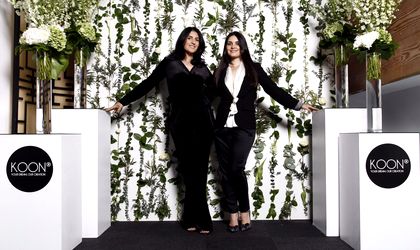 With experience in journalism and PR on Anita's side and sales and marketing on Nicoleta's side, KOON is a strong, dynamic and creative full services events agency and HORECA consultancy. BR met with the two entrepreneurs and found out more details about their business and the industry they are working on.
Romanita Oprea
What made you decide to go the entrepreneurial path and why precisely then?
Anita Panait: The decision was made in a blink of an eye. I met my actual partner, Nicoleta, as a supplier when I was working for one of the biggest media groups. I wanted the best food, presentation and design for our events and she was always above expectations. Back then, there was something, we connected somehow, apart our jobs. It took one lunch and story about her than just a dream, KOON, and I was mesmerized. We started like fun, when things got serious, I "bungee jumped" in the new chapter of my life, like a real koonish girl.
Nicoleta Tilinca: Because that was the moment. My moment to follow my dreams. Otherwise, you may risk and lose your train. For me, dreams were always a drive and always become reality. It's my way of living.
How did the experience that you accumulated until then help you along the way?
A.P.: Well, I must admit it helped me a lot. First, I was used to work a lot, really lot, without whining. I knew that to pursue the new dream, I'd had to give up my employee lifestyle and start a life as entrepreneur. The experience gathered during the 10 years spent within the communications and events field helped me a lot, it refined my work style and I knew a lot about timings.
N.T.: I have always felt an entrepreneurial spirit within me and KOON was not my first kind of experience. So, the previous experience as entrepreneur helped me shape better the new path. It helped me to begin, but it took a lot more to be able to maintain and increase a business, which, at some point, is meant to become profitable. To make the shift from a project developed out of passion to becoming a real, strong & consequent brand. For this to happen, we have followed professional classes and management courser, in order to transform skills in competences. We enrolled within intensive professional programs of management, sales, business coaching within one of the best consultancy and training companies, CBC Romania, led by a very special person, a visionary, with wide expertise and experience in business, business coaching, PhD Nicolae Petre, to whom we would like to take advantage of the opportunity and thank a lot.
How did you choose the name KOON and what does it represent for you?
A.P.: I cannot take credits for the name, maybe just for what it became a bit. Yet for me, KOON is about fighting for a big dream, is about delivering happiness, is about living the life you want, is about seeing others happy, spreading love, feeling fulfilled. It's about the spiritual richness and a tone of passion.
N.T.: We chose the name together, after a quite short brainstorming, actually spontaneous one, with the help of a very dear friend. It was somehow easy, as I knew exactly what I wanted! A short name, easy to remember and pronounce, that should have at root color, fairy, happiness, good state of mind & soul. Koonish is a way of life for us and this is what we want to consolidate. Life is not about money or material goods, very necessary of course, yet life is more about experiences, emotions. And this is our daily job: delivering happiness.
What services are you offering now and how did they change since the launch?
A.P. & N.T.: We are a full service agency, which can organize a full range of events, from private to corporate, from small to big events and take care of all aspects 360. Starting from the concept, to coordination, negotiations, tasty food & bar menus, entertainment and event management, our team can provide the necessary expertise and assistance.
Our second division, which was developed naturally, due to our 10 years HORECA experience, is providing PR and marketing services only for HORECA brands. We strongly believe in specialization, above all and this is what makes us the right partner for successful clients.
What do you consider to be the most important decisions you took since launching KOON?
A.P.: To accept that I have to start all over again, to open my head and go back to school, to learn how to professionally manage a business. Somehow, I still feel that the most important decisions are still to be made, we are in our 3rd operational year and we have been learning so much until now.
N.T.: To say NO!
Who do you consider to be your main competition?
A.P. & N.T.: The only and most important direct competition is with ourselves. Every day we compete with us. To be a better version, to do things better, to do well, to help more and to develop personally and professionally. In general, the competition is benefic and stimulates us to be better and better, to innovate and to adapt to the market. And if someone decides to copy our work, methods and concepts, it means that we are a source of inspiration, which can only make us happy!
Whom are you main clients?
A.P. & N.T.: Mainly, our clients are those of 360 events, the majority of them being from the private area (weddings, baptisms, anniversaries) and near 35 percent from corporate field, with clients such as: Samsung, S Clinic, IMAGE PR, OXYGEN PR, Positive Communication, Creative Market.
Regarding the HORECA division, we mention: chef Joseph Hadad, Restaurant Joseph & CAJU Brasserie, Restaurant Dancing Lobster and LILIAC Winery.
Do you have expertise on a certain or several domains of activity?
A.P. & N.T.: Business consultancy, HORECA PR & Communications, Sales.
What are the projects you are most proud of?
A.P. & N.T.: We are proud of each and every project, no matter how big or small. For us, each event leaves a mark in our hearts and a forever living memory, especially when we are talking about weddings, regardless how more or less famous. Also, in terms of HORECA clients, it would not be fair to name one favorite, yet, we have a special soul connection with chef Joseph Hadad and his team, being in the same time proud and honored to be part of his brand projects.
What have been the biggest challenges so far and how did you pass them?
N.T.: Our major challenge has been building a strong and united team, which is able to evolve every from a year to another. This year we took a shift of strategy, we have reorganized our departments and our biggest challenge is to be able to implement the plan established at the beginning of the year.
A.P.: For a small business, some of the biggest challenges are the cash flow, big corporate clients and saying no to clients who deserve it.
What is your business motto?
N.T.: Do it with passion or not at all!  Work hard, party harder!
A.P. Work, make mistake, get up, try again but don't repeat the same mistakes. Work hard, party harder.
How do you find inspiration?
A.P.: I am a very creative person. I get my inspiration from travelling, from outside, from long walks, from books, from people around me.
N.T.:  I simply dream it, I fell it, and I make it happen!
How different is organizing a wedding versus a business event? Which one is harder and why?
A.P. & N.T.:  We are always debating this issue also within our team. Difficult to give the final answer, but I would say that a private event is probably harder. Because you have in your hands the most important days of a family's life, the most intimate and beautiful emotions. So, also the connection is often stronger. Most of our private clients, become our forever friends.
How has 2016 been for KOON in business terms and what are your projections and hopes for 2017?
N.T.: 2016 was still a year of investments, but also of consolidation of what was going on well. 2017 is a year focused on profit and focused on developing our team's competences.  It will be for sure our best year of our almost 4 of activity (December 2017).
What must the industry know about you?
A.P. & N.T.: That we are real, emotional but very responsible. That we are learning every day, in order to have the best results and never quit! That we are driven by such a passion, that we are lucky to love what we do and to do what we love.