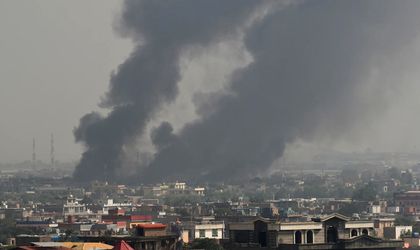 A representative of Romania's diplomatic mission in Kabul, Afghanistan died and another sustained serious injuries on Tuesday night following a terrorist attack carried out in the Green Village compound, which houses many foreigners, embassies and international organisations, the Foreign Affairs Ministry (MAE) announced.
Minister Ramona Manescu said that the Romanian Embassy was an intended target of the attack, which lasted several hours, and that the building that housed the Embassy could no longer be used as it had been largely destroyed. 
The MAE added that the head of Romania's diplomatic mission and the Embassy's head of security were evacuated to a nearby military base.
In total, the attack left at least 16 civilians dead, while 119 others were injured as a truck carrying explosives blasted the area. The Green Village has been the target of many similar attacks in the past.
The attack took place soon after the US said it might withdraw over 5,000 of the 14,000 troops currently stationed in Afghanistan following negotiations with Taliban representatives.
According to the BBC, the Taliban now controls more territory than at any time since the US invasion in 2001 and have so far refused to talk to the Afghan government, whom they see as American puppets.