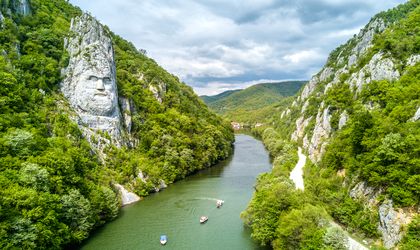 The Danube Gorges are considered one of the most beautiful parts of the Danube's Canyon. Placed on Danube passing through the Carpathians, the Danube Gorges are a component of the "Iron Gates I" Natural Park, with a length of nine kilometers unfolding along the biggest and oldest canyon a river has made in Europe.
The Danube Gorges is a destination ideal for the weekend, as all the touristic objectives are easily accessible from this accommodation unit, reaching them by car or on foot, on beautiful tracks.
On the Danube Gorges you can find the head of Decebal, the last king of Dacians, considered by many as being the ancestors of Romanians, and it represents the highest rock sculpture in Europe (55 meters). The sculpture is relatively new, it was made in 2004 from the private funds of the businessman Iosif Constantin Dragan, after a work of 10 years.
Close by there is the Monastery Mraconia, built on the place of an observation point and ships control point on the Danube. The monastery is supported by the pillars made of concrete and can be visited during the year. The ruins of the old monastery were swallowed by the waters of the accumulation dam and can be observed only when the water level is very low.
Another beautiful objective in the area is the Veterani cave, situated at close to 70 m above the water. It has always been in the attention of the treasure hunters worldwide, who claim that the famous silver treasure of the emperor Maria Thereza of the Austrian-Hungarian Empire is hidden in the cave closed with rocks. Before the logjam construction, the inhabitants were hiding there cows, sheeps and goats, but it's also said it was the sanctuary of Zamolxis, the supreme God of Dacians.
Last, but not least, visitors can see the Iron Gates I  hydropower plant, the biggest hydropower plant in Romania and the biggest one on the Danube, representing the first cross-boarder collaboration between Romania and Serbia.
Thus, the Danube Gorges is a perfect destination for the weekend and especially for a weekend in family. You will find here beautiful landscape, history and perfect for leisure.
Featured Photo courtesy: Dreamstime