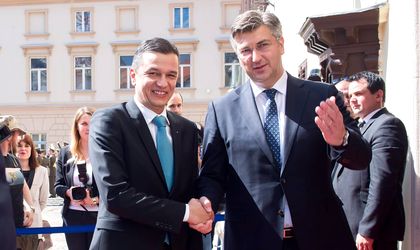 PM Sorin Grindeanu his Croatian counterpart Andrej Plenkovic signed two documents in a bid to intensify the bilateral economic relations, said the Romanian head of state, according to News.ro.
Grindeanu emphasized the will of both states to consolidate the bilateral cooperation and as partners within EU and signed the agreement on common protection of classified information and the Agreement Memorandum regarding the cooperation betwee then Commerce and industry Chamber of Romania and the Economic Chamber of Croatia.
He also said added that in 2016 the commercial exchanges between Romania and Croatia amounted to EUR 270 million.
Grindeanu meets with Gordan Jandrokovic, the president of the Croatian Parliament and will be welcomed by the Croatian president, Kolinda Grabar Kitarovic. The visit will end with a press conference at Zagreb.
Photo: Sorin Grindeanu's facebook page