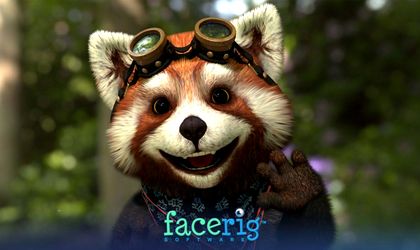 Holotech Studios SRL, the Romanian company behind the animation program FaceRig, has received USD 2 million in funding. The real time animation program FaceRig allows everyone to become a digital character. 
Holotech Studios SRL was developed by a team of 6 Romanians. The investment, received by venture capital fund SignalFire will be used to support development and sale efforts of the FaceRig suite and to increase the current product line. The future includes both an SDK multi platform type solution and an avatar e-shop, both to be released in 2018.
The company, created in 2013 in Bucharest, has opened a San Francisco office to support its global growth.
The software allows anyone to become a digital character, by using real time facial recognition software via existing technology. The FaceRig suite can be used for both commercial and personal purposes. FaceRig sets itself apart from other software suite by offering complex, fully 3D avatars.
Currently, FaceRig has more than 4 million downloads worldwide (combining iOS, Android and Windows Desktop) and more than 100,000,000 views on YouTube. So far it has been used for Skype conversations, museum visits, corporate events, tech exhibitions, education, theatre and more. The platform was launched in 2013 by a team of six Romanians following a crowd funding campaign on Indiegogo, where they managed to raise USD 300,000.