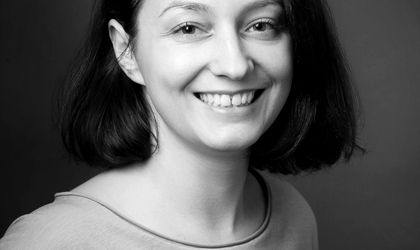 With a Bachelor's degree in Marketing, Raluca Voinea entered the advertising world in August 2008 as an account executive at Propaganda agency. In July 2010, she moved to McCann Erickson Romania where she became senior account executive. For more than a year now, she moved to the UK, but remained in the McCann Group, as a global account manager.
Romanita Oprea
This interview continues the exclusive series "Romanian marcomm successful people in UK" started with Maria Nazdravan and followed by Bogdana Butnar, Stefan Liute, Andreea Nastase, Alina Pirvu and Mihnea Miculescu.
What made you chose advertising in the first place, what attracted you to this industry?
I've always wanted to work in advertising. When I was in my last year in university I started to go to different advertising meet-ups for students. That was the moment I saw the most creative people in advertising from Romania. Some of them lead the industry even today.
What do you consider to be the most important steps in your career so far?
I think one of the most important moments in my career was when I started to work at McCann Bucharest. I had chemistry with the agency, the people, and the work from the beginning.
What about the projects that you are most proud of while being in Romania?
One of the projects I am very proud of it's a campaign we did for Rom at McCann Bucharest few years ago. The campaign is called 'Romanians are smart'. I am proud because I strongly believe Romanians are so much more and have so many things to prove and to be proud of; it's just that they have to overcome all prejudices (from communism, from the way other nationalities perceive us, from the way we perceive ourselves). I also enjoyed that time the way we worked together as a team – we actually believed very much in what we were promoting. This campaign also brought the team and to McCann a few awards at creative festivals.
In general I am very proud of all the work that comes from McCann Bucharest. And I am proud of any good work that comes from Romania and I show it to my colleagues. When Romanians adopted Brits we laughed in our office that we already adopted them.
What can you tell us about the time spent studying at McCann Worldgroup EMEA Advertising Academy? What are the main things you learnt and help you in your career?
Young talents around the globe gathered at the EMEA Academy from Manchester. We were organized into teams and we received a brief. We were supposed to deliver and pitch a campaign to the client in one-week. Surprisingly the client was Nestlé, the client on which I am working here, in London. My team won the pitch. I think we won because we were very much a team compared with other groups, plus we were all very ambitious and we had the most integrated idea and presentation.
How did you decide to leave Romania and why the UK? 
 I worked really close with the central team in London and with Adrian Botan our Global ECD in developing the work for one of the Nestlé brands. I was already part of this team in Bucharest when I was offered to work in the McCann international office from London. I accepted as fast as I am answering to these questions. I mean it took me one week to decide and another two to actually move and start working in London. The truth is I've always wanted to have the experience of working abroad so I accepted the challenge.
How has your professional life changed since moving to the UK? What were the most important steps?
 I've learned many things of course. It's also a cultural challenge – to communicate in another language, to manage markets around the globe, to understand their cultural context, to have contact with people that have different ways of working from what I knew back home but from whom I've learned so many things. For example we have a very focused mind and we keep our calm in highly stressed moments, but we also solve everything in the last moment. Here it's a different kind of culture; everyone's opinion is valued so we spend more time in meetings while no one copes with the pressure or stress one day before the presentation with the client.
How would you characterize the UK advertising scene?
UK is a mature market compared to Romania but still very exciting. It's a fantastic variety of accounts. Then it's also the agency size and the numerous divisions and specialties. Plus it's a high level of expertise in technology, mobile and user experience and the advertising scene is always innovative in finding new technologies.
How different is McCann Bucharest from McCann London?
There are differences between the two offices, especially because we talk about different kind of accounts, different markets so different responsibilities. At McCann Bucharest we have an entrepreneurial spirit. The only limitation is the budget, but we are clever enough to always look for creative solutions in solving clients' problems. This is how we managed to be the most creative agency in Eastern Europe and in the Network. In London it's a different kind of responsibility, with challenges in working in a more organized environment, but with higher budgets and with access to different technologies, which can leverage the work.
How do you consider the Romanian advertising people are perceived in the UK, especially the women?
Romanian advertising is perceived well in UK at least when people remember about Romanian campaigns. In my case when I tell people where I come from, they remember the campaigns we did at McCann Bucharest and the reactions are really WOW.
Do you ever consider coming back to Romania or moving somewhere else? Or do you see yourself working forever in advertising in UK?
Right now I am enjoying the UK experience. Plus, it's a big move to go to another country and to change all your life the way I did. So I need to digest more of this. But I am very curious about the world so I would like to explore more. And maybe one day I will come back home. I really want to contribute in different ways to our advertising world and not only.
What do you believe that are the Romanians main assets that bring them success on the UK's advertising industry?
Romanians know how to hijack the system. You kick them out the door; they will go through the window, this way they always find quick, cost effective and creative solutions to problems.
What do you miss from your professional life in Romania? (If you miss anything)
I miss something that I will never find no matter where I will go. That thing is called home.
What are the clients you are working on at this moment?
 I work for one of the Nestlé brands.