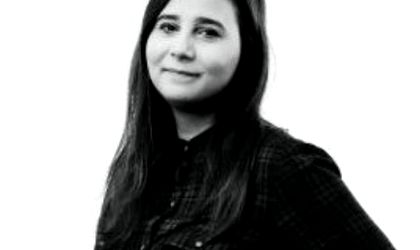 With a Bachelor's degree in Communication Studies, Public Relations, Advertising, and Applied Communication at the Faculty of Journalism and Communication Studies, the University of Bucharest, Diana Vasilescu entered the Romanian advertising and communication scene in July 2009, at the agency Eventures. She got the first job in UK in February 2014 and has been ever since working for several important clients, such as: Volkswagen Financial Services (Audi, Skoda, SEAT), Diageo (UK and Germany), BBC and Save the Children.
Romanita Oprea
This interview continues the exclusive series "Romanian marcomm successful people in UK" started with Maria Nazdravan and followed by Bogdana Butnar, Stefan Liute, Andreea Nastase, Alina Pirvu, Mihnea Miculescu, Raluca Voinea and Dragos & Anda Teglas.
What made you chose advertising in the first place, what attracted you to this industry?
It's an odd one because I never saw myself working in advertising. When I was living in Romania I was studying journalism and I was very certain that was going to be my career. But then, in the summer of 2009 I interned at Eventures (an advertising agency based in Romania) and I enjoyed it so much I ended up staying there for 4 and a half years.
The advertising taught at university was very different and not something I enjoyed at all. After I started working in my first agency, all of those misconceptions changed. There is a huge difference between what you're being taught in school and what you actually end up doing in "real life".
What do you consider to be the most important steps in your career so far?
Probably moving abroad to work in the UK as it has changed a lot of my perceptions about advertising, so much so that I decided to shift from that and move to branding.
What about the projects that you are most proud of while being in Romania?
We did a project several years ago with Philip Morris where we organized and ran a series of events across the country. In this unique venue we had 360 projections, live DJs and different experiential activities. It was quite intense and I dedicated most of my time to that. I'm most proud of this project as it was something new for everyone involved and the team worked really together and in the end the whole series was a success.
How did you decide to leave Romania and why the UK? 
Many of my friends had already moved to the UK and I kept visiting them. In the summer of 2013 I started to yearn for a fresh, exciting venture, into the unknown. So I started arranging all the details and in November I arrived. I picked UK mostly because I knew people who were living and working there, they gave me their full support making it easy to adjust to this new lifestyle.
How has your professional life changed since moving to the UK? The most important steps.
Since moving to the UK I've had a little epiphany that made me slightly change my career path in the sense that I have put advertising aside and focused more on branding & strategy. When I first got here my first two jobs were in advertising, I was running campaigns with financial and FMCG clients. Although I was enjoying it, I felt something was missing and I wanted to gain more knowledge about the brand itself as opposed to just running campaigns. This was when I moved to Principal Ingredient to focus on branding. I had some fantastic mentorship from the agency's co-founders Igor Jocic and Gillon Campbell where I learnt all about brand strategy.
What is the main difference about being an employee versus a freelancer in a market so competitive, especially if you are not British?
In a nutshell, the variety of work. It keeps things fresh and interesting, one month you're working within a specific industry and then the next one you're doing something completely different. Nationality doesn't really play a role in this, especially in London, where you come from has no leverage. It's all about your experience, your skill set and how quickly you can adapt from project to project.
What made you decide to choose to be a freelancer for a while? 
It was a choice I made when I was in between jobs, but I didn't particularly enjoy it because you're always worried when the next job will come and therefore your next paycheck.
How would you characterize the UK advertising scene?
Incredibly varied. There's room for anyone and anything. When I started applying for jobs in London I was pleasantly surprised to see there were so many agencies to choose from. Back home I feel that's a bit more restrictive, it's more about who knows who. I also find that people in the UK put more emphasis on strategy, whether it's in the creative area or the account management side.
You've been working for independent agencies, both in Romania and the UK.  –  Why didn't you choose a multinational? 
Multinationals are too process-driven. It's good to have a structure in place, but when it becomes too methodical you start to lose on creativity. I'm being completely subjective of course, but from my experience I never really felt "free" in a multinational company.
How do you consider that are perceived the Romanian advertising people in UK, especially the women?
People see us as being very driven, proactive and always keen to come up with a solution. Maybe it's because as an immigrant you subconsciously have the need to constantly prove yourself which is perceived as highly motivated and a hard worker. I've never been treated differently because I'm a woman or a Romanian (or both!), but there are little subtleties sometimes where you can see that there's still a bit of ignorance or misconception about eastern Europeans.
Do you ever consider coming back to Romania or moving somewhere else? Or do you see yourself working forever in advertising in UK?
At this moment in time I don't see myself going back to Romania. I don't think there are enough opportunities at home and as much as it pains me to have left my family back home, I can provide so much more for them now that I'm here. UK is definitely my home right now and I see myself here for at least a few more years, but I am open to move to other countries. Once you've packed up your life and moved thousands of miles away to start fresh, it's easy to do it again a second time.
What do you believe that are the Romanians main assets that bring them success on the UK's advertising industry?
I guess you can say we're highly motivated, maybe more than the average because we've just moved to a new country and we need to prove ourselves. I don't think there are assets based strictly on nationality. I think it's always down to the individual and their capabilities.
What do you miss from your professional life in Romania? (If you miss anything)
My former colleagues and the banter we used to have. I spend 80 percent of my day speaking in English and so I really miss being able to crack a Romanian joke and have a lengthy conversation in my native language.
What are the clients you are working on at this moment?
Right now I am running a number of projects for different clients across sectors. The main project keeping me busy is an international asset management company that's just about to launch in Europe, we're working on their brand and launch materials.
What is different about tothepoint? What have you chosen this agency?
I liked the fact that the work was varied and it gave me the opportunity to work in the hospitality sector for the first time. The mix of people is good and you get just the right amount of support you need as an account manager. It sounds a bit cliché, but we have a really good team spirit and that makes project flow easily. The agency has been around for 25 years and so there is a lot of experience from which you can learn from.