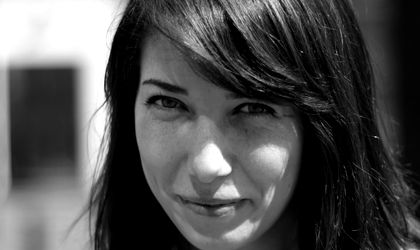 Creative planner at jones knowles ritchie since October 2014, Alina Pirvu, left Romania for the UK in 2011. She told BR about the branding and advertising industry and the impact it had on her career and future professional plans.
This interview continues the series called "Romanian marcomm successful people in UK" started with Maria Nazdravan and followed by Bogdana Butnar, Stefan Liute and Andreea Nastase.
Romanita Oprea
How did you decide to leave Romania and why the UK?
Leaving Romania and adventuring into new territories has always been there, in the back of my mind since early years of my education. And as I grew older and got into the creative industry, it became evident that there's a lot more to know about, learn and explore beyond the borders of my country.
You have degrees in marketing, design and brand strategy. What made you choose the client service department and then the planning & strategy department?
As with most people in this industry, the path to where I am today has slowly started to shape after trying few things. With my background in business and marketing, client service was a great entry point into the creative world, giving me a good understanding of how things work within an agency. Having done that in advertising, I've soon come to realise that I wanted to be closer to a brand's 'heart', its undeniable truth that defines its existence and is then visually and verbally expressed and shared with the world. Thus I turned my attention to strategy & planning within design consultancies.
How has your professional life changed since moving to the UK? The most important steps.
The first and probably most major change I've noticed is the work schedule. Not to say that in the UK you don't get to work over the schedule if need be, however there is a great amount of respect for one's time off. A holiday for example is what it says it is, not I'll-just-read/send-one-more-client-email.
The second effect the UK has had on me personally is that it widened my view of design and creativity, opening my appetite for more. There's so much diversity within the creative business industry here, it's almost impossible to ignore.
How have you chosen the first agency? What were the main challenges during this period of time?
The industry here is heavily competitive when it comes to both agencies and graduates looking to get a job. So I knew I had to go big and bold and get myself known. I started from the very top and got in touch with some of the most awarded and highly acclaimed consultancies in London, and that landed me to spend some time with the likes of Pearlfisher and TheTeam, before landing a job at Bluemarlin and then moving onto jones knowles ritchies where I've been ever since.
What are the campaigns that you are more proud of and why?
From my time in advertising in Romania, I'm mostly proud of having worked alongside a bunch of talented people on the first ever edition of Skoda Green Challenge. Six editions later, it's fantastic to see how far it has come!
Whilst in the UK, two brand designs that are close to my heart are Hippeas (http://hippeas.com/) and Half Hitch Gin (http://www.halfhitch.london/), both of which I've got to see growing from just a product and a name, into category challengers and successful design stories.
How would you characterize the UK advertising scene?
As mentioned earlier, it's a damn challenging one. Whether that's advertising or brand design, the industry evolves day by day and you need to move with it. However, a fast pace doesn't mean things are being rushed. On the contrary, people and projects are given enough time and resource to ensure the best possible creative result is being achieved, the polar opposite of the short deadlines and manic pace that often describes the Romanian approach. Having enough time to immerse yourself into the client brief, the brand world and other sources of inspiration can often unlock new avenues for creativity.
What are the most important lessons the London advertising scene has taught you so far?
Keeping an open mind and an open heart have been paramount to me in the design and branding scene. The former because the more you know and the more varied your knowledge is, the more diverse and sometimes unexpected your ideas are. The latter because unless you train your empathy 'muscle', you won't make the most of all the culturally diverse people and situations you will encounter here. They can teach you a lot about yourself as individual, as well as the people we design for and communicate to.
Do you ever consider coming back to Romania or moving somewhere else? Or do you see yourself working forever in advertising in UK?
I've always seen the UK as the beginning of my journey, not the end destination. Thus I've never dismissed the idea of working in other countries for a brief period of time in the design and branding industry.
As for returning to Romania, as much as I miss it at times, going back is not an option at the moment. Yet things seem to be heading the right direction at home. Some of my friends that have returned and started their own agencies have managed, however slow, to shift the paradigm that the creative industry has been used to for decades.
What do you consider to be the Romanians main assets that bring them success on the UK's advertising industry?
There's a tenacity and an unquestionable drive to achieve more and do better that defines the Romanian character. We are not afraid of the hard work and we are quick on our feet. And we've also got a pinch of sarcasm in our humour that always helps us turn any situation, no matter how bad, into something positive.
What do you miss from your professional life in Romania? (if you miss anything)
Getting to the point quickly. No matter how much I like and see the value of diplomacy when dealing with clients and internal or external agency teams, I sometimes miss the frankness and quickness of an answer or piece of feedback.
What are the clients you are working on at this moment?
I dedicate most of my time to the MARS Inc. chocolate brands – Snickers, M&Ms, Maltesers, Celebrations – and some of their food brands, but also working on Heinz, Half Hitch and few other local brands.
What are the main differences of working for an independent agency versus a multinational one in London?
There is definitely a greater degree of creative freedom in working for an independent agency. Not only it allows the agency to grow in the direction it sets for itself, without being governed by a different entity, but it also enables people within the agency to move teams and projects swifter.
What advice would you give to an advertising professional wanting to move to London? But to someone who is just at the beginning of its advertising career, with minimum experience in Romania?
My piece of advice is to be clear about what you want for yourself and then aim high. To me that is something that applies both to a professional with years of experience, and someone at the start of their journey. And most importantly, don't settle if you feel your heart is not in it completely. If there's something that tells you that this is not quite right for you, it's probably because it's not.