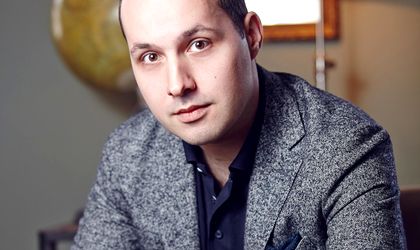 Digital communications plug-in with a knack for consumer campaigns, having worked with a series of global brands like Coca-Cola, CNN or HTC, Mihnea Miculescu has an extensive experience in the digital, social media and PR industry, both in Romania and the UK.
This interview continues the exclusive series "Romanian marcomm successful people in UK" started with Maria Nazdravan and followed by Bogdana Butnar, Stefan Liute, Andreea Nastase and Alina Pirvu.
Romanita Oprea 
How did you decide to leave Romania and why the UK?
I can't say I hadn't been toying with the idea of making a move, but when it did happen it wasn't for any particularly exciting reason – I just had a very interesting offer. Funnily enough that ended up not working out, but it did eventually lead to meeting my current business partner here!
How has your professional life changed since moving to the UK? The most important steps.
It's quite a tricky one to attribute to anything specific, I think – I moved to London when I was only 23 so you could argue that I evolved mostly on the premise of, you know, growing up.
But still… I started with PR in McCann Bucharest's immensely creative environment, where I was mentored by arguably some of best people the industry has seen. I then eventually moved to working on tech brands, which at the time had the biggest appetite for digital and social activations – so I started doing a lot of that. By the time I moved to London I was looking to pursue that exclusively, and I've very much been working in this space ever since.
More specifically, my lead role today is within a brilliant boutique consultancy called The Tom Sawyer Effect – we operate across both real-world and online platforms and communities, wherever our audiences might be and where we can create a genuine impact with them. That can involve anything from developing social activation strategies to running immersive theatre productions. Here I've had the opportunity to work with a huge variety of amazing brands, ranging from global powerhouses like Coca-Cola, CNN or BMW, to groundbreaking non-profit organizations like Cancer Research UK or Child.org.
You are also collaborating with Rusu+Bortun. How did the collaboration start and what is your role? How are you actually working with them and on what clients?
Catalin and I ran into each other in London a few years ago – we started bouncing some ideas around and next thing I knew, we were in business. My involvement with Rusu+Bortun has been a love story ever since.
My role in this partnership focuses on growing the digital and social media capabilities of the agency – that involves things like defining, implementing and refining processes, developing strategies, helping to manage talent, guiding creative output, ensuring integration with any and all work streams and, last but not least, generating new business opportunities.
I'm involved to some extent across the entire spectrum of clients Rusu+Bortun Cyber Growers caters to, working mostly remotely from London. And whenever I am in Bucharest, you'll almost certainly find me in the Corbeni St office on just about any given day!
Moreover, The Tom Sawyer Effect and Rusu+Bortun often function complementarily to one another – over the past few years we've done some brilliant work together on national and even pan-European campaigns, for brands such as Avis, Time Run, Budget or The Crystal Maze.
What are the projects you're most proud of since moving to the UK and why?
It goes without saying that I'm proud of just about all of the projects I've been involved in – but if I had to pick a couple, it would probably be Run An Empire and A Nether Realm.
Run An Empire is a brilliant strategy running game for iPhone, where players race against each other to conquer territory in the real world. We got involved when a close partner of ours launched the Kickstarter campaign, and two years (and two funding rounds) later we are overseeing all comms efforts and watching the game blossom into a category of its own. We're just in the middle of launching it in the UK and we're planning for its global release soon!
The other one is A Nether Realm which was actually created by The Tom Sawyer Effect in partnership with Rusu+Bortun. We were commissioned to help promote an exciting new science fiction play from Headlong, which initially ran at the prestigious Royal Court Theatre in London (and then went on to run in the West End and won some serious awards). Instead of putting together a standard video trailer, we created a beautiful, interactive digital adventure that immersed people into the virtual world the production portrayed – it was an absolute hit and many said it set a new standard for theatre promotions in the online space.
How would you characterize the UK advertising scene?
The UK itself is an enormous consumer market (among the biggest in the world) and its marcomm industry is a very mature one. That brings a lot of benefits – things like big budgets, plenty of data on just about everything and quick adoption of new technologies. It's also one of the biggest hubs, meaning you'll see a lot of brands' European, EMEA or global activities being coordinated from London. The one downside, if any, is that the pace is (by most standards) insane…
Do you ever consider coming back to Romania and moving somewhere else? Or do you see yourself working forever in advertising in UK?
You never know – I don't think I'd use the word 'forever' for anything!
What do you consider to be the Romanians' main assets that bring them success on the UK's advertising industry?
I don't really believe in generalizing anything to the extent of a nation. Having said that, though, most of the Romanians I do know working in marcomm (and beyond) here in London are some of the smartest and most hard-working people you'll ever come across.
What advice would you give to the Romanian professionals thinking about moving to the London advertising scene? What about the young ones?
If you do it, do it for the right reasons and make sure you're willing and able to adjust to the rhythm. And remember that relocation is usually a tricky affair for anyone.
However, with the risk of sounding slightly hypocritical here, the Romanian marcomm industry has a lot to offer nowadays – and it really needs its smartest, most talented people to stick around and fuel its growth.
How has the London advertising scene changed you?
I don't think it has, not that I can tell at least! Apart from that having to adjust to that pace, maybe…
Do you miss anything about Romania?
The usual – friends and family – although I do visit Bucharest ever so often, so I get to catch up with them quite regularly!
More about Mihnea Miculescu
 Bachelor in International Economics, he entered the marcomm industry in November 2006 as a PR Executive at McCann Erickson Romania, where he managed Corporate Communications for the company's 5 divisions, including media relations, developing an online communication strategy, organizing corporate events and creating an internal communication program. In July 2010 he started his first job in London, UK. For more than 4 years now he is partner, digital comms consultant at Rusu+Bortun and for more than 6 years partner, digital comms consultant at The Tom Sawyer Effect.
Photo credit: Mihai Baloianu