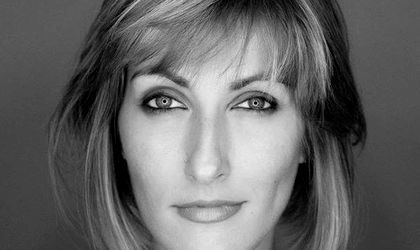 Digital marketing strategist with a solid team management experience. Interested in all things digital, TED X Speaker and frequent contributor to social/digital conferences in Bucharest, Prague and London, she is a one-time blogger, struggling to keep up the momentum in the age of 140 character messages.  She is Bogdana Butnar, one of the key strategists on the Romanian market, currently head of strategy at Poke/Nurun in London.
She continues the series called "Romanian marcomm successful people in UK" started last week with Maria Nazdravan.
Romanita Oprea
How did you decide to leave Romania and why the UK, especially after all your experience in Romania?
Leaving Romania was a combination of personal and professional. I had quite a fulfilling professional life in Bucharest, my job at Google was incredibly rewarding but I was thinking about a next step, maybe in a few years. This was all happening back in 2013 and my plan was to maybe make a change in two-three years. However, some personal developments opened the very serious option of moving to the UK right away so I decided to give it a try. I had done my MA in London a while back and always felt that it was a place I would like to come back to. There's something about the vibrancy of this city that was always appealing and, in 2013, when I had both personal reasons to move and I was working in a global company that would maybe make it easier for me to transfer inside, it felt like the right thing to do.
Why not creating your own agency in Romania?
I had some plans about opening my own little agency long before I joined Google but I found that one needs a great partner to make those kinds of plans come true. It's not something I would do on my own and, back then, I was not really able to find the right person to share both my vision and my way of working. It's not a dead and buried plan though. I might still do it but I'd have to meet a digital marketing soulmate. I think working in the UK advertising business has given me a completely new perspective on how agencies are built and, more importantly, on how this profession should be done. London is the second most relevant digital hub in the English speaking world after New York and we have the incredible opportunity, working here, to be exposed to the latest and the best. The pace of this place also means that you learn at an accelerated rate so I have acquired so much. So, maybe, at some point I might decide that's valuable for Romanian clients too. It's not going to happen in the next few years but I am not discounting it. One never knows what comes next really.
How has your professional life changed since moving to the UK? The most important steps.
I moved to London in 2013 and started my new job at Google in the tech practice which exposed me to amazing clients like one of UK's then most relevant tech retailers, OEM's like Panasonic and Canon and the mammoth that is Dell. I then decided to leave and try my hand at strategy again because I felt too sheltered at Google and wanted to really experience and understand the UK marketing and advertising scene. So I moved to Poke, which had just been acquired by Publicis UK. I felt that the acquisition would open up a whole new world of work for Poke and I was right: almost 3 years later we've had the chance to work with global brands like Nestle, Libresse and Airbus. It's been very rewarding.
Why have you chosen Poke?
Poke is a wonderful environment to work in. The agency's philosophy, always making things better, felt like a good fit with my own view of what digital should be about. I was also very much in awe of the founding partners, they are all smart people with really interesting views of digital and involved in many side-projects I was a fan of.
What were the main challenges during this period of time?
There's two things that come to mind: pace and missing friends& family. I think people in London work at a more accelerated pace. This place never stops so it's easy, if you want to make a mark, to get sucked into a crazy routine where all you think about and do is work. So it's always a challenge to be able to take a step back and prioritize. Being a newcomer to the industry I was often at risk of losing myself in the crazy pace and I still try hard, every day, to make sure my life is not just my work. And naturally, I miss my friends & family. I've made some great friends here in the past years and there's friends from back home who moved to London but there's people in Romania who've been with me for the past 10-15 years. That's hard to replace. So sometimes you put life into perspective and you wonder how healthy it is to be separated from the people who matter for a very long time. I still don't have an answer to that, by the way.
How would you characterize the UK advertising scene?
UK advertising is big and fast. There's so many people working in this industry and they all want to make their mark so it's all about doing thing, making things, thinking out new things. The budgets here are so large I initially got scared. Looking at that, you realize how much responsibility and trust is placed in you as a professional and that motivates you to try your best. And one thing I like about advertising here in particular is that we have much more information than I remember having back at home. Everyone does research all the time, there's data being made available all the time, people enjoy understanding the facts and results. And that makes this industry much more accountable and more, well, scientific. Which I really like because I was never comfortable with this projection of advertising people as people making art or standing around looking broody. And when it comes to digital, we are in a place where the next development is being tried out. Platforms like Google and Facebook drive test their betas here so there's a lot of exposure to innovation. The UK advertising scene is an education of the best kind.
Do you ever consider coming back to Romania or moving somewhere else? Or do you see yourself working forever in advertising in UK?
I am not discounting moving back but it's not going to happen in the next couple of years. I now have a responsibility to a team in Poke and I am taking that quite seriously. But in 5- 10 years, who knows. I think I see myself owning a small bakery somewhere and selling low sugar Nordic style cinnamon rolls (and that, by the way, is not a joke and you'll see if you check my Instagram account).
What do you consider to be the Romanians main assets that bring them success on the UK's advertising industry?
Not sure about all Romanians, but for me what's made me successful and different here is a level of directness and goal-focus. Not 100 percent sure that's a Romanian trait though. I'd speculate that as a newcomer to the UK advertising scene, one also tries harder to catch up.
What do you miss from your professional life in Romania? (If you miss anything)
I don't think I miss anything right now because I am still accumulating stuff here. I definitely miss some of the people I worked with during my time in Bucharest.
What are the clients you are working on at this moment?
I run the digital strategy for UK's largest telco, EE, and also globally for all SCA brands (Libresse, Libero, etc) and for parts of the Nestle business globally. As Head of Strategy I am also responsible for the quality of all strategy coming out of Poke so I supervise most other accounts we work for.
What are the projects you are most proud of and why?
I loved winning the SCA business last year. Brands for women are in the spotlight right now and, myself, I have been sometimes described as a feminist so being given the chance to work for a global feminine hygiene brand was amazing! This year, we partnered with AMV BBDO to support them on a first truly incredible project called RedFit. It's all about educating women about exercising according to their own bodies, so on your period as well, but most importantly it breaks new grounds because it talks openly about blood and bleeding. That's this year. And last year, Poke made The Wembley Cup, a one of a kind content campaign in partnership with some of UK's biggest YouTube influencers. That was about football, so less emotionally relevant to me as a person, but still an incredible project to be a part of because this is such a "football country" very much like Romania and YouTubers are HUGE here.
More about Bogdana Butnar
She started her career in marcomm as Head of Corporate Communication for Rompetrol in December 2002 and entered the advertising agency's world as Head of Strategic Planning for Headvertising. She continued her path at one of the leading agencies in Romania – McCann Erickson and in September 2008 became the Managing Director of MRM Worldwide. After more than 2 years she came back for a brief time to her first agency– Headvertising. In May 2011 she returned to the other side of the marcomm world – the client, by becoming Business Development, Head of Multiple Industries at Google Romania. In September 2014 she left Romania in order to become Lead Strategist at Poke / Nurun UK.