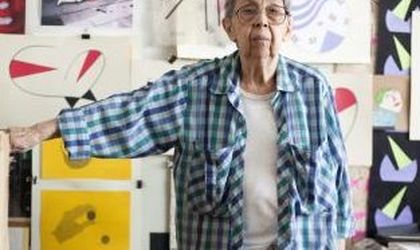 Geta Bratescu, one of Romania's most illustrious artists, who represented Romania at the 2017 Venice Biennial, has died, aged 92. She was a central figure of the Romanian contemporary art scene and had a rising international profile.
The nonagenarian artist's latest project, Game of Forms series (2009-present), in collaboration with  Paris-born Marie Jacotey, saw her design new tube maps for the London Underground.
Bratescu was born in 1926 in Ploiesti and studied at the Faculty of Letters with the University of Bucharest.
Throughout her 60 years-long career, her work has been exhibited by the Galerie im Taxispalais ( Innsbruck), the National Museum of Art of Romania (Bucharest), A Foundation din Liverpool, Index Foundation (Stockholm), e-Flux (New York), Istanbul Biennale, MACBA Barcelona, Mumok Vienna, Kalmar Museum din Suedia, Galerie Barbara Weiss (Berlin), MOMA New York and Tate Museum (London).