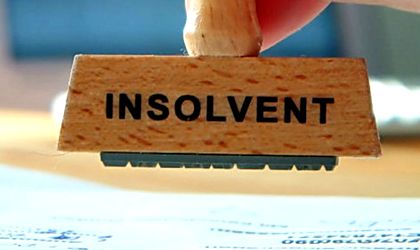 Agriculture and animal husbandry, industry (production) and real estate are the main fields affected by insolvency in the first half of 2016, according to an analysis by Casa de Insolventa Transilvania (CITR) on companies of impact in the economy (companies with fixed assets exceeding EUR 1 million).
In the same period of 2015 the main areas affected were services, construction and trade.
In the first five months of this year, the number of companies impacting the economy that became insolvent fell by 9 percent compared to the same period last year. However, the size of affected businesses was 200 percent larger. Thus, during this period, 95 companies with fixed assets of over EUR 1 million became insolvent, compared to 104 in the same period of last year. Other 133 large companies have submitted applications for insolvency this year.
However, the 95 companies becoming insolvent this year have together some 3,000 employees more than the 104 of last year, and a cumulated turnover 216 percent higher (EUR 1.28 billion). In addition, the companies which have filed for the procedure but have not yet entered insolvency have an added turnover of over EUR 2.1 billion and about 23 thousand employees.
"At the moment we believe it is important to launch a warning to big companies, but also to everyone who looks at the decreasing statistical number of insolvency proceedings, but not at the true dimension of the impact phenomenon. Each business or field of activity has its own peculiarities. However, the impact that the insolvency of large companies can have in an industry should not be neglected," says Andreea Cionca-Anghelof, managing partner with CITR.
Among large companies that have entered insolvency until May are the Interagro Group, STG Steel, Prospectiuni SA, Sity International and CET Govora.
Among the studied companies 32 percent (by turnover) are active in trade, 23 percent in services and 22 percent in construction. Also, a regional breakdown based on the turnover of these companies shows that the largest companies that seem affected by insolvency are from Bucharest (over EUR 550 million turnover in total), Ilfov (EUR 340 million), Constanta (EUR 340 million) and Sibiu (EUR 301 million).
CITR provides insolvency proceedings consultancy and restructuring management through a team of over 110 people and eight branches. The company has managed over 800 insolvencies and covers a wide area of expertise: real estate, construction, agriculture, media, transport, pharmaceuticals, food, wood, footwear, ceramic production, bakery, commercial, mining and processing of oil products, ferrous ore processing.
Natalia Martian