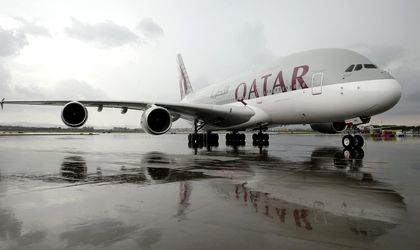 After Qatar Airways launched the second daily flight from Bucharest to Doha in August, Natali Brodnik, the commercial manager of Qatar Airways Romania, told BR more about the operator's plans and the challenges it encountered on the Romanian market.
Georgiana Bendre
How would you describe the local airlines market at the moment?
This year Qatar Airways celebrated 5 years of operations in Romania and the local market is becoming increasingly competitive each year, to the benefit of Romanian travelers.
There are also growing numbers of passengers traveling to Asia, Australia, Africa and the Middle East, for both business and leisure purposes, which led us to introduce our second daily flight from Bucharest to Doha, in August 2016.
What were the challenges met by Qatar Airways in Romania? What are the advantages of the local market?
The Romanian market continues to go from strength to strength and Qatar Airways is delighted to be part of that growth, especially when it comes to providing the corporate sector with a service upon which they can rely to connect businesses seamlessly throughout the world. Qatar Airways is a young and ambitious airline, with a fleet of 190 modern aircraft and an average age of less than five years.
Through our network, we now link Bucharest to both popular and some more remote destinations around the world with a double daily flight. For example, just this month we introduced Windhoek, Namibia, to our growing list of destinations.
In so far this year, what were the operations of Qatar Airways in Romania in terms of turnover and number of passengers?
Demand for our service to Doha has surpassed our expectations since we started operations just five years ago, with 4 weekly flights, on a route that was previously linked with Budapest.
I am delighted that we now offer 2 direct flights every day to Doha's new Hamad International Airport, enhancing the travel options and flexibility available to our business and leisure passengers alike.
Moreover, we are seeing an increasing trend of both business and leisure travellers returning to us on a repeat basis, showcasing the fact that our passengers recognize the high quality of service we provide as one of the World's leading airlines.
Onward connections to Bangkok, Singapore, Bali, Maldives are increasingly popular, alongside our Australian gateways of Sydney, Adelaide, Perth and Melbourne.
How much has the airline invested locally and what are the future plans of Qatar Airways in this area?
Qatar Airways is proud to employ many Romanians on a full and part time basis, both here, in Romania, and as staff within our home and hub, Doha, in the State of Qatar.
A strong focus for all of our staff is training and, of course, the opportunities made available to them for working on one of the world's truly global airlines, something that applies to all of our Romanian employees from ground staff and cabin crew, through to Head Office employees.
We currently operate an extensive network of over 150 destinations worldwide and in the coming months we will add the additional destinations of Krabi (Thailand), Seychelles, Auckland (New Zealand), providing even more choice to our Romanian passengers.