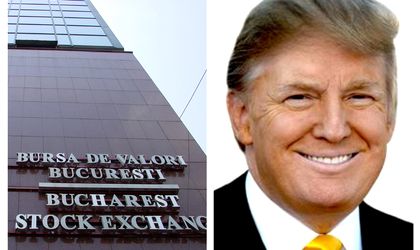 All the main indices of the Bucharest Stock Exchange (BVB) opened in the red on Wednesday morning, in the same time when it became clear that real estate billionaire Donald Trump won the elections and would become the new president of the United States of America (USA).
BET, the main index of the BVB, was down 1.84 percent to 6,685.20 as of 9:59 AM. All the shares in this index were in the red. Banca Transilvania was down 2.15 percent to RON 2.2750 per share, while OMV Petrom fell 3 percent to RON 0.2210. Romgaz shares were losing 2.73 percent to RON 23.1500
The BET-FI index, which includes investment funds, has fallen by 1.71 percent to 27,975.75.
The international financial indexes were also in the red.
"Dow futures, at one stage down 800 points, are now trading a little over 500 points lower for the day. Safe havens like the yen are now off their intra-day highs. At the moment – and it seems to be changing rapidly – markets are treading water waiting for confirmation.
Nevertheless European stock markets are braced for a gigantic selloff this morning as Donald Trump looks poised to become the 45th president. It's a very messy picture indeed and we are seeing some wild swings in prices, reflective of what's an incredibly close race and that is just impossible to predict.
The FTSE 100 is looking to open some 220 points lower amid a broad-based equity sell-off. A rising pound versus the weaker dollar will also weigh on the blue chips. The DAX is ready to open 5% lower, close to 10100. Asian stock indices have led the way down, with Japan's Nikkei slumping nearly 1000 points, or 5%," said Neil Wilson, markets analyst at ETX Capital.
Peter Garnry, head of equity strategy at Saxo Bank, added that the markets scenario following the Brexit vote will probably repeat after the US elections result.
Ovidiu Posirca