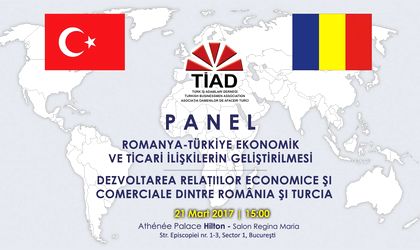 The trade between Romania and Turkey stood at EUR 4.3 billion in 2016, while the total Turkish investment stock in Romania reached EUR 4 billion according to the Ministry for Business Environment.
"Romania proved that it can offer advantageous businesses, as it has a stable and competitive economy, with a predictable investments environment where the business Turkish community developed successful stories. From my point of view as minister for Business Environment, Trade and Entrepreneurship, I'll make sure that the experience of the Turkish investors will be a pleasant one, because the investors can be the best ambassadors of Romania in foreign countries," said Alexandru Petrescu, the minister for business environment, who attended a special event organized by the Association of Turkish Businesspeople in Romania (TIAD).
The main fields in which Turkish companies operates in Romania are renewable energy, oil sector, constructions and constructions materials, infrastructure, textiles industry, manufacturing industry, banking field, hotels industry, agriculture, industrial and technology parks.