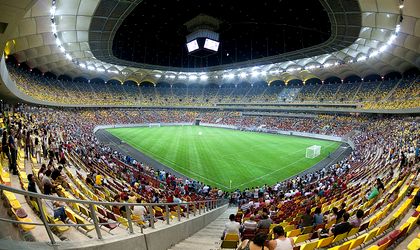 Romania will have six more modern football stadiums, at Craiova, Targu Jiu, Arad and three in Bucharest (Steaua, Dinamo and Rapid), currently existing only six stadiums according to the Football EU norms of UEFA.
According to the Professional Football League (LPF), until the end of this year a modern stadium of 31,000 places in Craiova, and from 2017 a new arean will be be opened in Targu Jiu, with around 12,500 places, all of them with roofs.
"For 2017-2020 there is a financing from the state budget for he modernization of stadiums Steaua, Dinamo and Rapid, in the case of the Euro 2020 project. Also with the state financing the UTA stadium will be finished," says the League.
The investments in stadiums are observed also in the growth of the spectators number, says the League, which says that in the championship 2015-2016 there were around one million Romanians in the stands, similar with the 2014-2015 season, which was played in the old formula, with more games.
For 2017, the League targets the growth of the spectators number on stadiums by 10-15 percent.
In Romania, six stadiums are in category IV, the highest classification according to UEFA norms: National Arena, Cluj Arena, CFR Cluj, Ceahlaul, Ilie Oana from Ploiesti and Astra Giurgiu.
The reconstruction of the four stadiums, Steaua, Dinamo, Giulesti and Arcul de Triumf (rugby) will be the training areas for the participants to Euro 2020 and will cost EUR 105 million, said one month ago the director of National Company of Investments, Manuela Patrascoiu.
Patrascoiu said that the reconstructions comprise 70,000 places on four stadiums, each place costing EUR 1,500.
"The stadiums construction is not a waste of money, it's a civilisation sign. We'll construct four stadiums, which will available to everyone and will comprise over 70,000 places, out of which 8,000 will be at Arcul de Triumf, 18,000 at Giulesti Stadium, 20,000 at Dinamo stadium and 30,000 at Steaua stadium. The financing will be ensured by the Regional Dvelopment Ministry and the estimated cost is approximately EUR 1,500 for every place in the arena. The Romanian Government said that it will organize EURO 2020 of national interest," said Patrascoiu.
Georgiana Bendre